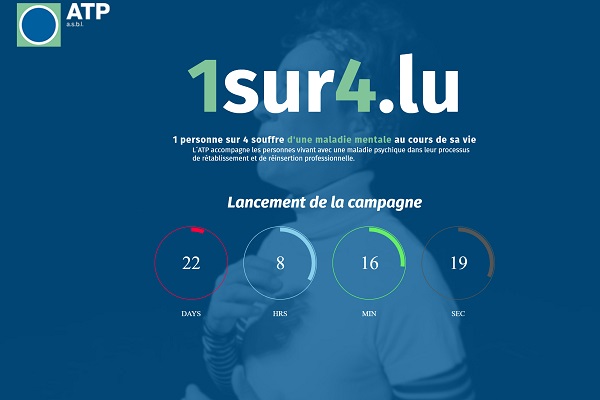 Countdown to website launch; Credit: ATP
ATP, a non-profit organisation that supports people living with mental illness, has announced that it will be launching its "work and mental illness" awareness campaign, 1sur4 (one in four), on Thursday 24 October 2019.
ATP will kick off its new campaign during an academic session in the premises of Lalux in Leudelange, under the patronage of Her Royal Highness the Grand Duchess and in partnership with the Ministry of Health and the Ministry of Family Affairs, Integration and the Greater Region.
The name of the campaign, 1sur4, refers to the fact that one in four people will suffer from mental illness during their lifetime. This figure reflects the reality facing many of those affected: mental illnesses are increasingly widespread and affect those who suffer in all aspects of their social and professional life, often leading to exclusion.

In this context, ATP has been supporting those affected by mental illness for 30 years in their recovery and professional reintegration, facilitating access to employment and expanding the range of adapted offers. More recently, ATP decided to launch this major awareness campaign to support access to working life for vulnerable people and to ensure that the continuity of this return to the world of work. In addition, ATP has called on all citizens to pay more attention to mental illness. As such, renowned artists have offered their support and will sign the following declaration: "I support citizen action work and mental illness".

This campaign will run for two months, reaching the public through bus advertising and cinema screenings of relevant short films. In addition, the www.1sur4.lu website will be launching on 24 October. The ATP is also appealing for donations to support its work as part of the campaign.