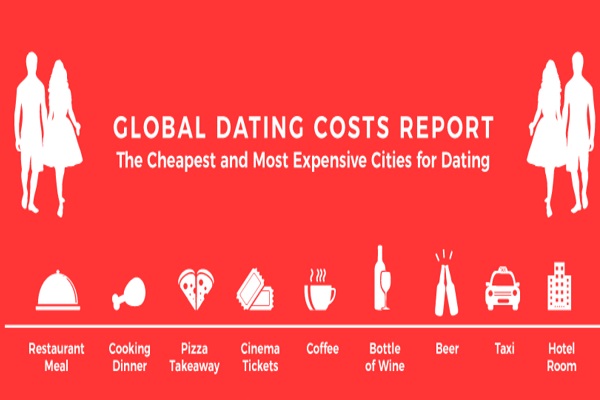 Credit: Taxi2Airport
Luxembourg City has been crowned the most expensive city to date, according to the newly released "Global Dating Costs Report".
The report, published by Taxi2Airport, examined the cost of dating (in GBP £) in 58 different cities around the world. It examined the cost of popular dating activities including the cost of a restaurant meal, meeting for a coffee, grabbing a drink, ordering a pizza and going to the cinema.
Coming out on top as the cheapest city for dating was Sucre in Bolivia, with a typical three-course meal for two people costing a total of £7.35, a home-cooked meal costing approximately £9.67 and a hotel reservation paired with a takeaway pizza costing just £14.02 in total. Following Sucre, the cheapest cities to date were New Delhi in India, Ankara in Turkey, Cairo in Egypt and Baku in Azerbaijan.
At the other end of the scale, Luxembourg City came out as the most expensive city for dating. A romantic meal for two in the Luxembourg capital was found to typically cost £61.18, whilst a hotel room cost £70.67. On the other hand, a bottle of wine cost just £6.99 and a takeaway pizza cost £7.95. Shortly behind Luxembourg, the next most expensive cities for dating were Amsterdam in the Netherlands, Copenhagen in Denmark, Washington D.C. in the US and Paris in France. Dublin and London also made the top ten.
Regarding methodology, Taxi2Airport compiled a list of key activities typically enjoyed while dating: restaurant meals; home-cooked dinners; pizza takeaways; cinema tickets; coffee; a bottle of wine; beer; a taxi ride; a hotel room. They then analysed the costs for the capital city of each country listed in the "Best Countries for Dating" report as published on U.S. News (https://www.usnews.com/news/best-countries/best-millennials-dating).
Based on a range of different sources, the Global Dating Costs Report was then compiled from the total average costs found in the above categories, giving the overall price for a typical dating experience. Taxi2Report ranked the cities based on these final prices.