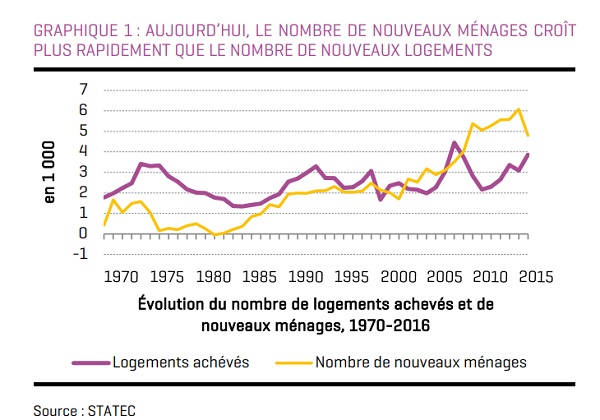 Credit: Statec
The year 2016 saw the completion of 3,856 housing units in Luxembourg, up 25% compared to 2015, according to a recent Statec report.
The report outlined how the number of completed dwellings is cyclical and dependent on the economic situation of the country. During the last economic crisis, the number of completed housing units decreased drastically (4,444 dwellings completed in 2008, compared to 2,162 in 2011). Since then, the trend has been on the rise again, with 3,856 housing units completed in 2016. Whilst this number remains below levels observed at the beginning of the 2008 crisis, it is slowly approaching it.
This increase in the number of dwellings in recent years was mainly due to the construction of apartments. Despite a general decline following the 2008 crisis, the number of dwellings in apartment and semi-residential buildings has been on the rise since 2013. Indeed, over the last five years, the number of apartments built increased by 107%, that of houses by 16.8%. In total, in 2016, apartments accounted for 69.3% of completed dwellings (2,673 apartments out of a total of 3,856 dwellings).
In addition, since 2010, an average of 2,891 dwellings have been built for a household surplus of 5,390. Without an increase in the number of new housing units built in the future, new households will have difficulty finding housing in Luxembourg.
Two-thirds of the dwellings completed between 2007 and 2016 were in the canton of Esch-sur-Alzette (24.8%), the City of Luxembourg and the canton of Luxembourg-Campagne (each approx. 15%).
On average, the living space of single-family homes increased from 181.0 m² in 2007 to 195.6 m² in 2016 (+8.1%). The average surface area of apartments, which tended to increase between 2007 and 2011, has once again dropped: 80.1 m² in 2016, 93.4 m² in 2011 and 85.2 m² in 2007.
Finally, the average time needed to construct a house in Luxembourg is 18 months, with houses being built faster than apartment and semi-residential buildings. In 2016, the construction time of prefabricated homes was almost twice as fast.