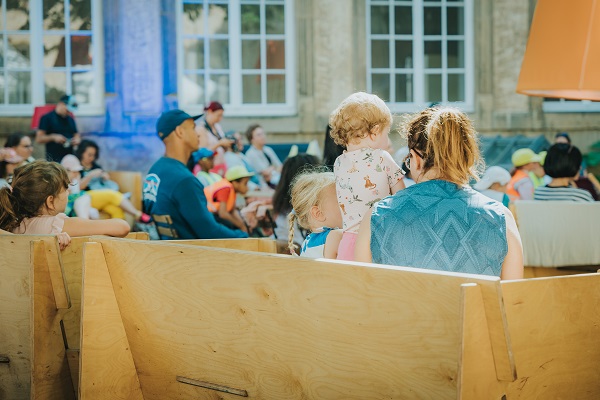 Open-air Library; Credit: VdL, Tom Jungbluth
The Ville de Luxembourg has confirmed that the 2023 edition of the initiative entitled "D'Stad liest" opens this evening, Wednesday 16 August 2023 and will take place daily (except Mondays) until Sunday 3 September 2023, from 11:00 - 18:00 as well as some evenings.
As part of the summer entertainment programme "Summer an der Stad" (Summer in the City), the initiative by the Cité Bibliothèque (City library) sees the courtyard next to the Cathedral (access via rue Notre-Dame) transformed into open-air library and follows the success of the initiative in 2021 and 2022.
The 2022 edition of the initiative was inaugurated earlier today, 16 August 2023, and is aimed at reading enthusiasts who, in a relaxed atmosphere, they can read a book, a magazine or a newspaper while being seated comfortably under the vast tree-shaded area in the centre of the courtyard. In addition, live readings and drama performances, as well as workshops, are planned throughout the three weeks.
For full details, including the detailed programme, click here.
English-language programme highlights:
16 August @ 18:30: Dead or Alive? Poetry Slam (DE, LU, EN, FR)
17 August @ 18:30: Mike Mc Quaide (EN), reading from "An American Still in Luxembourg"
18 August @ 18:30: Poetry Slam (DE, LU, EN)
25 August @ 18:30: Poetry Slam (FR, EN, LU)
26 August @ 13:30 & 16:00: Ikuko Ikeda Atelier Japon et Manga (FR, EN), drawing workshop, for children over 5
29 August @ 18:30: Bolu Babalola (EN), Book Discussion on "Love in Colour", for Over 18s (reservations on Instagra, @betweenthelines)
31 August @ 18:30: Terry Adams (EN), reading from "After the Break" poetry collection
2 September @ 14:30: Andries van Wyk (EN) reading from "The Comparison – Anton's Awesome Adventures", for children over 6
2 September @ 15:00: Between the Lines (EN), discussion, book exchange
2 September @ 18:30: Dazwischen frei concert/reading (DE, LU, EN, FR)
No prior reservations are required (apart from specifically noted above); access up to capacity limits.