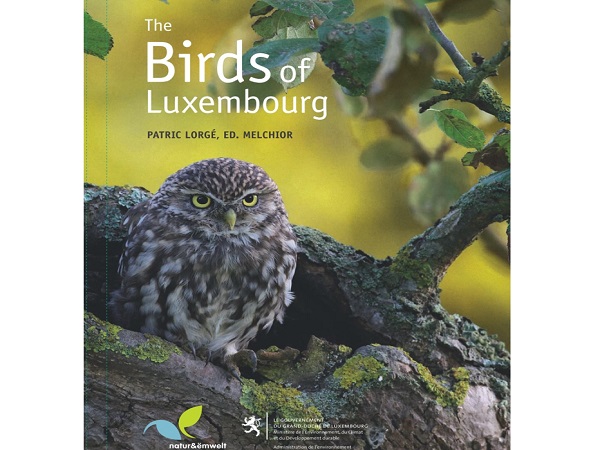 The natur&ëmwelt a.s.b.l. has announced the launch of the first English-language edition of its "Birds of Luxembourg" nature guide series.
For 100 years, there was no English-language guide to the birds of Luxembourg. However, with the growing presence of English worldwide, including in Luxembourg, has led to natur&ëmwelt, the Grand Duchy's leading nature conservation NGO, to bring out an English-language edition of its bestselling series of nature guides in its centenary year.
The brand-new "The Birds of Luxembourg" (authors: Patric Lorgé, Ed. Melchior) is a companion volume to the original "Vögel Luxemburgs" and "Les Oiseaux du Grand-Duché de Luxembourg", and a stablemate to the very similar German and French guides to Luxembourg's mammals (authors: Laurent Schley, Jan Herr).
"The Birds of Luxembourg" is a 276-page treasure trove of information on every aspect of Luxembourg's remarkably rich bird life. Starting with descriptive texts and photos (almost all by local nature photographers) detailing the country's 180 most common species (one per page and arranged by habitat type), the text moves through "rarities" and "escapes" to "accidentals and vagrants", ending up with a detailed checklist of every bird species (335 in total) ever recorded in Luxembourg.
This book is intended for all readers, from the garden bird enthusiast to the most exacting and committed birder. There is information on breeding / migratory behaviour, population numbers and protection status. The text is in English, with the names of all the common species also given in French, German, Luxembourgish and Latin.
"The Birds of Luxembourg" costs €30 (Christmas offer: €25) and can be purchased at the House of Nature shop in Kockelscheuer, at Biodiversum in Remerschen or any bookshop. Those interested in ordering a copy for home delivery can do so by transferring €33 (Christmas offer: €28, including postage and packing) to the natur&ëmwelt bank account: CCPL LU50 1111 0511 3112 0000 (including the customer's name and postal address).