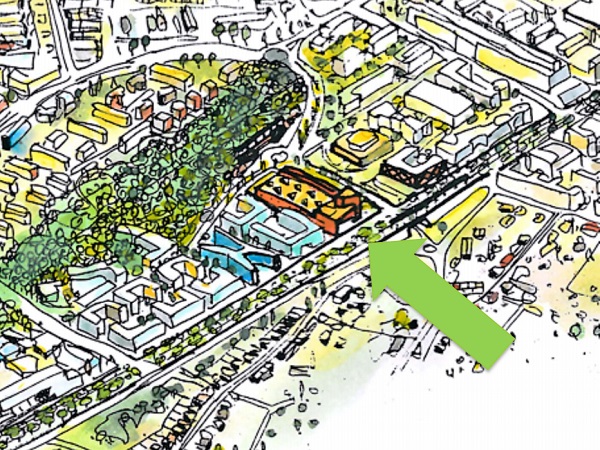 New BnL located at 37D Avenue John F. Kennedy, Luxembourg-Kirchberg; Credit: BnL
Next month will see the National Library of Luxembourg (BnL) embark on a new phase in preparation for its move to Kirchberg: the relocation of 1.8 million documents to the new site.
From 1 April 2019, the BnL will begin to relocate its 1.8 million documents onto its new, functional site. Located in the Kirchberg district, at the junction of Avenue John Fitzgerald Kennedy and Boulevard Konrad Adenauer, the new building will group together all the repositories and services of the library in one single site.
The new building, which began construction in June 2014, will offer reading rooms on several floors housing more than 200,000 books. In addition to numerous work and study stations, visitors will also find "relaxation" areas as well as specific spaces for group work. A family area will allow parents to do their research, accompanied by their children. In total, the library will boast approximately 470 seats, 100 terminals and a 24/7 service for borrowing and returning books. There will also be a music room, a specialised reading room for the consultation of precious documents and printers/photocopiers on every floor.
Moreover, secure and air-conditioned stores will provide the necessary conditions for the preservation of heritage collections, whilst an exhibition hall will finally enable the enhancement of treasures preserved by the National Library. Rooms for workshops and training with adequate equipment will also be available for the use of students, the general public and professionals. There will also be a small cafeteria.
The basic objectives of the construction project were to design a building that is durably functional, attractive and high quality in terms of comfort and energy efficiency, whilst also simple and natural. This challenge has been met by finding innovative solutions for architectural and technical choices to achieve an effective design project.
In this next phase, the new site is now ready to accommodate the library's extensive collections, following extensive preparations on the part of the library staff. The BnL will move all of its collections to the new building between 1 April and August 2019. This relocation will be carried out gradually: what was stored on 7 different sites will now be consolidated and transferred, with the help of five relocation companies, to the new site.