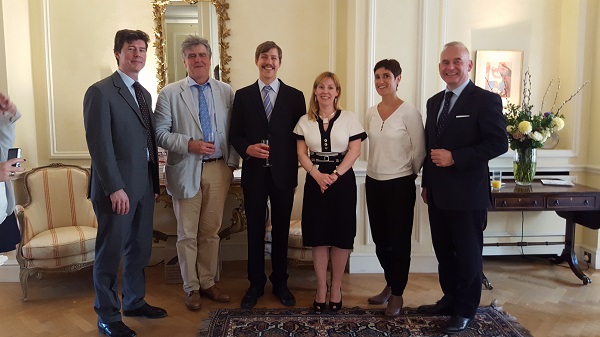 On Thursday evening, the Luxembourg Ambassador to the UK, Patrick Engelberg, hosted a literary evening at his residence in London, featuring two authors who have had books published in which the stories have been set in Luxembourg.
Ruth Dugdall, the author of Nowhere Girl, and Daniel Pembrey, the author of The Candidate, were the special guests for the evening who were introduced by Ambassador Engelberg, who said how pleased and surprised he was to hear of two British authors who had chosen to set books in Luxembourg, and he also commented on the fact that both The Candidate and Nowhere Girl are crime novels. In front of an audience of around 50 guests, primarily from Luxembourg society, the discussion was then facilitated by Rene Weis, a Luxembourg national who is also Professor in English at UCL in London.
Both authors spoke about their relationship with Luxembourg, and how its beauty had inspired them. Ruth Dugdall added that she would have been unable to write Nowhere Girl without the help of local people who had expert knowledge of crime in the city, such as police and social workers. Daniel Pembrey mentioned that, like the character Nick in The Candidate, Luxembourg keeps a captivating hold on him and he loves to go back and visit the Hotel Cravat (as featured in the book).
Both authors said what a privilege and honour it was to be speaking at the Embassy in front of the Ambassador and Prince Louis. Other members of the audience included Crime bloggers/reviewers Radmila May, Ewa Sherman, Jessica Mulley and Clare O'Beara, as well as Crime festival organiser Mike Linane.
The event took place both indoors and outdoors on the terrace as the sun was shining. The winners of the charity auction were Timea Cassera and Sam McKenna.