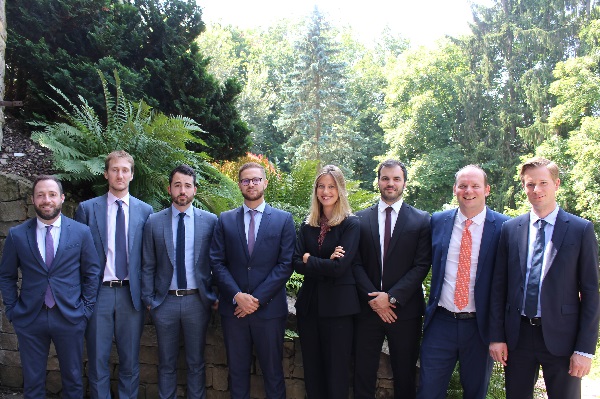 L-R: Pablo Umbon-Manzano, Senior Associate; Davide Giacomoni, Senior Associate; Brice Bertolotti, Associate; Yacine Bouazza, Associate; Jeanne Fournier, Senior Associate; Garry Reuland, Associate; Romain Viard, Director; Dr. Daniel Krauspenhaar, Director; Credit: Wildgen
Luxembourg law firm Wildgen has announced one new arrival and a number of promotions as part of its growth and talent development strategy.
After the recent nominations of Partner Emmanuelle Ragot as head of the Employment practice and Partner Karine Vilret as head of the Dispute Resolution and Litigation practice, Wildgen has announced the recent arrival of Matthieu Chambon (Director of Investment Funds) and confirmed several promotions.
Matthieu Chambon has joined the firm as a Director to strengthen the Investment Funds practice group. He has significant expertise in advising clients on both regulated and unregulated funds. Samia Rabia, head of Wildgen's Investment Funds practice group, has described Chambon as "a great addition to our existing team of fund lawyers, given the breadth of his background and his expertise from his years working in both private practice and in-house in Paris and Luxembourg".
The firm has also strengthened the offering of its Litigation, Corporate and Banking & Finance practice groups with the appointment of new Directors: Dr Daniel Krauspenhaar, a member of Wildgen's German Desk, focusing on investment funds and banking & finance matters; Muriel Piquard, who has in-depth expertise in corporate and commercial litigation and employment law; and Romain Viard, who specialises in real estate and corporate law, assisting his clients in litigation, advisory and transactions.
Jeanne Fournier and Pablo Umbon-Manzano, who specialise in corporate law, along with investment funds lawyer Davide Giacomoni, have all been promoted to Senior Associate.
Commenting on these appointments, Managing Partner François Brouxel stated: "After the significant commitment each of them has continued to show the firm, I am delighted to announce their appointments to senior roles. Their promotions acknowledge the hard work and dedication these individuals have made both in their respective practice areas and to the firm overall. It also reflects the opportunity we offer to grow-in to senior positions and our development of strategic practice areas".