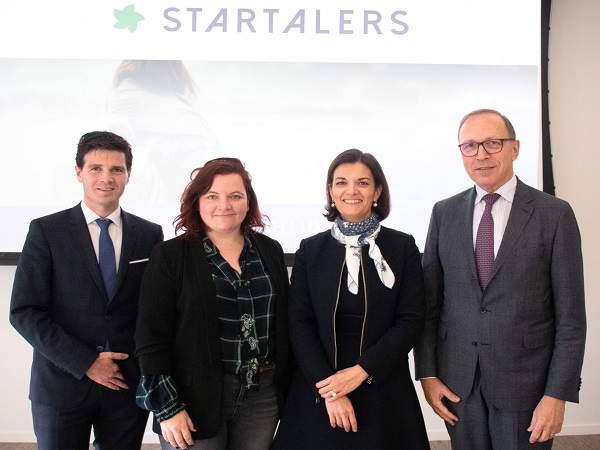 L-R: Pierre Schoonbroodt, CFO and Member of the Executive Committee of LuxSE; Gaëlle Haag, CEO of StarTalers; Julie Becker, founder of Luxembourg Green Exchange and Member of the Executive Committee of LuxSE; Robert Scharfe, CEO of LuxSE; Credit: Silicon Luxembourg
StarTalers, a Luxembourg startup aimed at promoting inclusive investment, has raised a total of €520,000 for its financial advisory service.
The Luxembourg Stock Exchange (LuxSE), a group of female business angels and Seeder Fund (an early stage Belgian VC) have just invested in StarTalers. LuxSE has also acquired a significant stake in the company.
This funding will be used to reinforce the technical team and complete the development of its digital platform. This first round of funding is in addition to the €50,000 it won during the 2018 Arch Summit and the €50,000 it received from Fit 4 Start Acceleration programme.
The startup has set an ambitious goal to hit in the next twelve months: to launch its digital investment advice offering in all French and Belgian markets. At a later stage, it eventually plans to expand into other European markets.
Since its launch in 2018, StarTalers' digital advisor has caught the attention of a group of potential investors that have so far been neglected in the financial services industry: women with no prior investment experience. The startup caters specifically to the financial needs of women and has brought together a new community of female investors who want to enable societal impact through their investments.
Gaëlle Haag, co-founder and CEO of StarTalers, explained: "Only 10% of women invest today, that's half as many as men. The 20% pay gap we've all heard of becomes a 40% capital gap at retirement. Women have substantially less to live through retirement – and they live on average 5 years longer. We are women's BFF (Best Financial Friend)".
The startup has already won several awards for its innovative approach with Gaëlle Haag having received the Whoopi Goldberg Female Empowerment Award at the 2018 Arch Summit in Luxembourg. StarTalers was also recognised by Luxinnovation and graduated from the Fit 4 Start acceleration programme, a programme dedicated to startups with high potential, whose €100,000 grant contributed to the funding round.
Gaëlle Haag added: "This investment by the Luxembourg Stock Exchange marks a huge step forward for the future of StarTalers. It provides the crucial funding needed to develop and launch our platform so that we can help women become financial investors. We estimate that women in Europe have around €580 billion in assets which are not being invested today, largely because women feel excluded from the investment world. This is something we would like to change".
While the StarTalers team will continue to perfect their product – also known as Donna – LuxSE will continue to advance its sustainable finance agenda in Luxembourg and beyond.
This information was first published on Silicon Luxembourg.