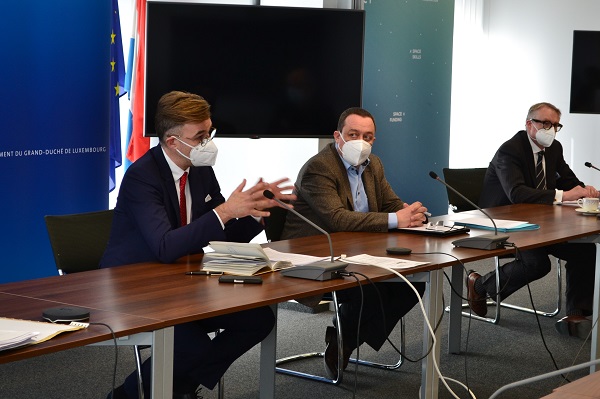 L-R: Franz Fayot, Luxembourg's Minister of the Economy; Frank Reimen, Ministry of the Economy; Patrick Nickels, Ministry of the Economy; Credit: MECO
On Thursday 8 April 2021, Luxembourg's Minister of the Economy, Franz Fayot, met with representatives of the LCGB and OGBL unions at the premises of the Ministry of the Economy to discuss recent developments surrounding the companies Paul Wurth and Liberty Steel.
The unions had expressed concerns over the future of industry jobs in Luxembourg after the Luxembourg state decided to sell its 40% stake in Paul Wurth, an engineering company located in Luxembourg-Hollerich, to majority shareholder SMS Group from Germany.
These concerns were heightened by the financial uncertainty surrounding Liberty Steel, the UK company which acquired the Dudelange steel plant from ArcelorMittal in 2018. Greensill Capital, the main lender of GFG Alliance (which includes Liberty Steel), filed for administration back in March, leading to concerns over the potential consequences for the financial health of the company and its impact on the behaviour of its suppliers and customers.
As part of this exchange between the Economy Minister and union representatives, Minister Franz Fayot insisted on the fact that in both cases, the Ministry of the Economy is "working to preserve jobs and maintain industrial activities with high added value and the development of a steel industry oriented towards green metallurgy in Luxembourg".