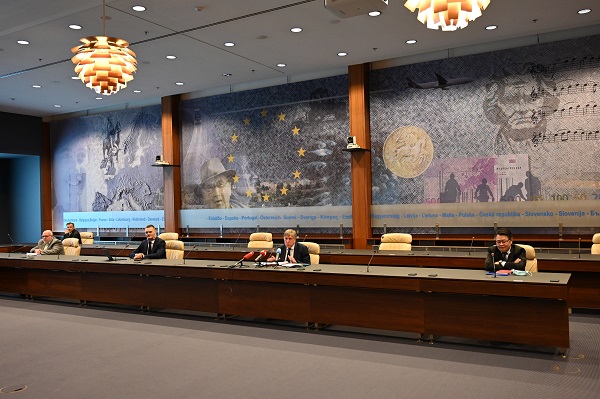 L-R: Patrick Dury, LCGB President; Gilles Feith, Luxair CEO; François Bausch, Deputy PM, Minister of Mobility & Public Works; Richard Forson, Cargolux CEO; Credit: MMTP
On Thursday 17 September 2020, members of the Luxembourg government and employer and trade union representatives met for a second aviation sector tripartite meeting in Luxembourg-Kirchberg.
The second meeting took place between the government, represented by François Bausch, Luxembourg's Minister of Mobility and Public Works, Dan Kersch, Minister of Labour, Employment and Social and Solidarity Economy, and Pierre Gramegna, Minister of Finance, and representatives of the LCGB, OGBL and NGL-SNEP unions. The various actors presented the first results of the joint working groups between the three companies and the unions, with a view to promoting an approach based on job retention and reclassification.
Mobility Minister François Bausch stated: "Since July, we have been able to follow very closely the evolution of the pandemic and the economic consequences on the aviation sector in particular, which is certainly one of the areas most affected by the crisis".
He continued: "By mutual agreement, after the discussions which took place in a calm and constructive environment, we decided to implement a '2020-2023 aviation plan', in order to guarantee the future and the sustainability of all the companies in the sector. We had to realise that the pandemic has led to certain structural changes to which companies must absolutely adapt to ensure their sustainability. In 2024, it is possible that aviation will have a completely different appearance. The 2020-2023 aviation plan will therefore have to take all these new parameters into account".
The next results will be presented at the next aviation sector tripartite meeting, which is scheduled for Wednesday 7 October 2020.