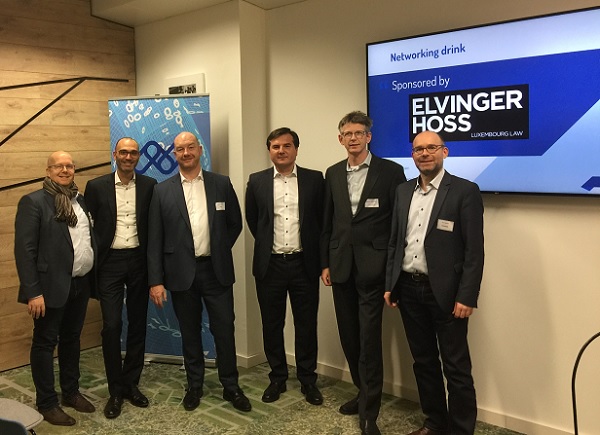 Infrachain meeting (L-R): Marco Houwen (Infrachain), Gary Cywie (Elvinger Hoss Prussen), Fabrice Croiseaux (President, Infrachain), Vitaly Bondar (Egaas), Carlo Harpes (itrust consulting), Tom Kettels (Infrachain/Digital Luxembourg); Credit: Copyright: Infrachain a.s.b.l.
"Infrachain groups the largest pool of Blockchain experts from all sectors. It is the central landing platform for Blockchain projects" - with these words, Fabrice Croiseaux, President of Infrachain a.s.b.l., opened the association's New Year's meeting held on Tuesday 15 January 2019 at the LHoFT in Luxembourg-ville.
The association, a public-private partnership launched under the Digital Luxembourg initiative, looked back at an eventful 2018: the Infrachain Summit took place on 17 May in Luxembourg and welcomed an international audience of some 100 participants and some 20 speakers around the topic of operational Blockchain use cases.
Among Infrachain's key achievements of 2018 were the launch of a Blockchain test environment that allows its members to test their applications on a fully decentralised, private chain instance. Infrachain is "GDPR friendly". The Infrachain community elaborated a GDPR position paper based on close contact with CNPD, Luxembourg's national data protection authority. The Infrachain governance, another collaborative effort by Infrachain members, brings the same level of governance and compliance to Blockchain ecosystems than classical environments while keeping the 3rd party distributed trust intact, even in private chains.
2019 will be key for Infrachain. Fabrice Croiseaux commented: "Infrachain is a public-private partnership launched under the Digital Luxembourg initiative. We are grateful that Luxembourg's new government recognised Infrachain's key role for the Blockchain industry and we strive to strengthen our position as pool of expertise to become a European lighthouse project." Infrachain plans to launch its first major operational use case within the following months. This use case will run on Infrachain's host operator network, a network of nodes operated by Infrachain members. Several major events are planned in 2019 including the second Infrachain Summit taking place on 14 March 2019 in Ljubljana, Slovenia. Last but not least, Infrachain's newly created committees will start their work in 2019. Infrachain committees play a major role in several areas such as governance, Blockchain legal aspects, business plans and technical environment. Committees are composed of Infrachain members and are at the core of Infrachain's community work."
After the Infrachain team's look-back on 2018 and outlook on 2019, Carlo Harpes, Managing Director of itrust Consulting s.à r.l. presented the Infrachain governance. Gary Cywie, Counsel at Elvinger Hoss Prussen provided his expert view on the bill of law 7363 in the light of the recent adoption of the French Decree on the use of Blockchain for securities and minibonds. The last speaker was Vitaly Bondar, CEO of Egaas S.A., who provided details on APLA, the first use case with operational Infrachain implication.
Fabrice Croiseaux closed the meeting by saying: "Infrachain is a community effort. Our members are the lifeblood of the association. Through their expertise and efforts, Infrachain is growing into a leading driver in the Blockchain ecosystem."
About Infrachain
Infrachain a.s.b.l. (association sans but lucrative) is a Luxembourg based non-profit organization with a European scope. The association was launched in May 2017 by several industry players under the impulse and with the support of Digital Luxembourg, the Luxembourg government's collaborative initiative that strengthens and guides the country's digital efforts. Infrachain is committed to create an on-top governance framework allowing Blockchain applications to become operational in the current regulatory environment. The association counts more than 40 members from 7 EU countries (Belgium, France, Italy, Luxembourg, Netherlands, Slovenia and United Kingdom).