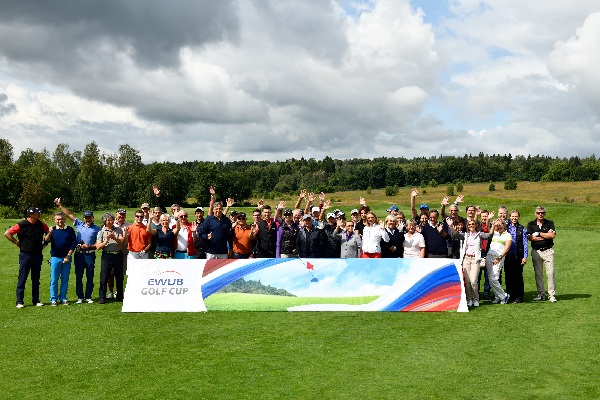 Credit: EWUB
Last week, 22 players from the Luxembourg golf team travelled to Moscow, Russia, to compete in the East-West United Bank's (EWUB) Golf Cup 2019.
After the victory of the Russian team at the first EWUB Golf Cup in Luxembourg in 2018, this year saw the bank hold its international golf tournament in Russia for the first time. The format of the amateur competition was inspired by the Ryder Cup.
This year, on 19 and 20 July, 22 players from Luxembourg played against 22 players from Russia, with a maximum handicap of 32. More than 100 golfers applied for the Russian team. For its part, the Luxembourg team was composed of players of different nationalities (Luxembourg, Belgium, Germany, Holland, France, Italy and Macedonia). Sergey Pchelintsev, Managing Director/CEO of EWUB, and Hans-Ulrich Hugli, a member of the board of directors of the bank, were among those participating for Luxembourg.
On the first day, the participants mastered the golf courses of the Agalarov Estate & Country Golf Club, and the second day was spent on the "green" of the Forest Hills Golf Club. Each day ended with a gala dinner, where players, partners and clients of the bank exchanged impressions of the two-day programme and the organisers distributed awards for the winners.
Special prizes were awarded to the players in individual categories with most going to representatives of the Luxembourg team: on the first day, Adam Garwood was named "Longest Drive Man", Benoit de Hults "Close to Pin Man" and Elke Egard– Berndroth "Close to Pin Lady"; the secpnd day saw Olga Pchelintseva receive the awards for "Longest Drive Lady" and "Close to Pin Lady" for Luxembourg.
After personal nominations and awards, the Russian team came out to receive the EWUB Golf Cup, having won overall with a score of 45:21. The Luxembourg players received a golf-inspired painting from a Russian artist as a consolation prize.
The third EWUB Golf Cup will be held again in Russia in 2020.