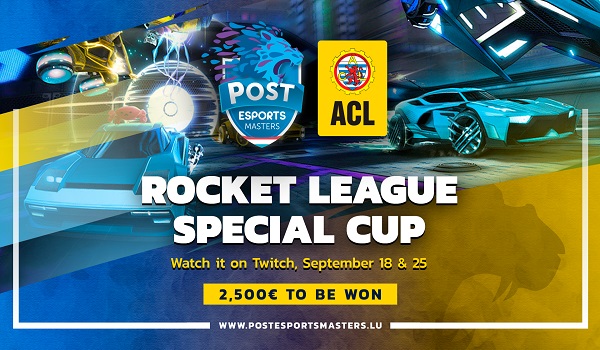 Announced back in August, the Rocket League Special Cup, organised by POST Luxembourg and the Automobile Club du Luxembourg (ACL) as part of POST Esports Masters, is kicking off this weekend.
The players are set to compete in a Rocket League game tournament of unprecedented scale in the Grand Duchy. With €2,500 in winnings to be shared and already 28 registered teams, this competition offers a unique challenge to the gaming community in Luxembourg and the Greater Region.
The players will face each other on Saturday 18 September 2021 from 13:00 for the chance to be part of the sixteen teams to reach the final phase on 25 September 2021.
The tournament will take place exclusively online and will be fully broadcast live on the Twitch platform (https://www.twitch.tv/postesportsmasters). The show will be hosted by two commentators specialising in Rocket League: Karascast and AidanSeesThings.
Spectators will also have the chance to win prizes throughout the show. One spectator will be drawn at random every hour and will win a €20 voucher for the Steam gaming platform.