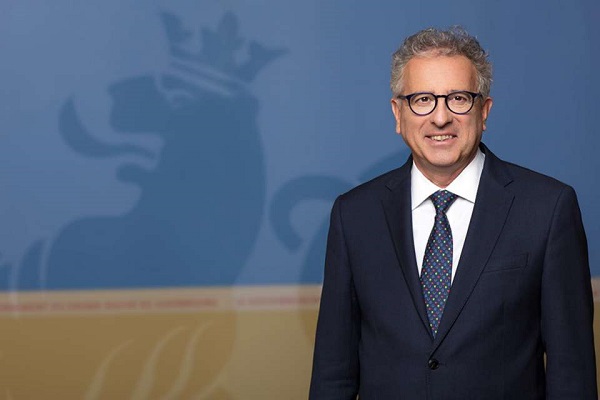 Pierre Gramegna, Luxembourg's Minister of Finance; Credit: SIP / Yves Kortum
On Friday 18 December 2020, Luxembourg's Minister of Finance, Pierre Gramegna, presented the public finance situation as of 30 November 2020 at a joint meeting of the Finance and Budget Committee and the Budget Execution Control Committee of the Chamber of Deputies (Parliament).
Compared to the situation observed at the end of November 2019, central government expenditure increased by 12.3%, which is equivalent to € 2.1 billion in absolute terms. This increase was mainly due to the measures put in place by the government to combat COVID-19 whilst preserving employment and supporting businesses. Direct and indirect investments increased by 22%, reflecting, among other things, the means available to the High Commission for National Protection for crisis management and the costs generated by the mass use of partial unemployment as well as several aid measures in favour of companies in the context of the pandemic.
Meanwhile, central government revenue fell by 5.7% (down €1 billion) compared to 30 November 2019. This deterioration resulted from the general weakening of the economy due to the health crisis. It also reflected the measures taken by the government in terms of direct and indirect taxes, including the increased flexibility granted to taxpayers in the current context. The cancellation of advances and payment deadlines represented a loss of €231.7 million at the end of November 2020. VAT refunds amounted to €1.6 billion, which corresponds to an increase of €79 million, or 5.1% compared to November 2019.
Considering this trend in revenue and expenditure, the central administration balance according to the European standard of ESA 2010 showed a deterioration of around €3.1 billion compared to November 2019. The central government deficit thus amounted to €2.2 billion at the end of November 2020, ie a level relatively close to that observed at the end of October 2020. A similar trend has been observed in the figures according to the national accounting rules of the state.
Finance Minister Pierre Gramegna commented: "Budget execution continues to be strongly affected by the health crisis, even if the central administration balance did not widen further in November and the situation remains under control. While the deficit for the whole year is estimated at €5 billion, we must not lose sight of the fact that significant expenditure will still be recorded during the coming months under the budget year 2020. I am convinced that through all the measures provided for in the 2021 budget voted this week by the Chamber of Deputies and the government's ambitious investment policy, 2021 will be the year of economic recovery and a return to gradually to more balanced public finances".