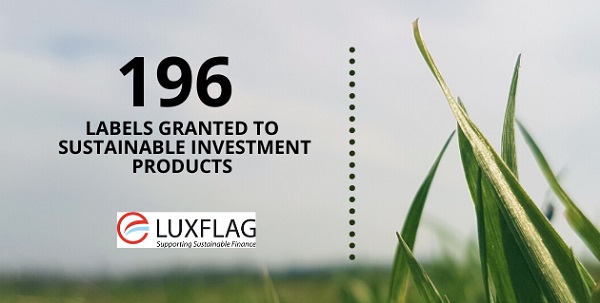 The Luxembourg Finance Labelling Agency LuxFLAG has awarded new labels to 27 investment funds, bringing the total number of labelled investment products to 196.
As of 26 March 2020, LuxFLAG has awarded a total of 196 investment products with €106 billion assets under management. These products are domiciled in seven jurisdictions and managed in sixteen countries.
Most recently, LuxFLAG awarded labels to 27 new funds, including 24 ESG (Environmental, Social, Governance), one Climate Finance and one Microfinance label as well as one Applicant Fund statuses.
The number of LuxFLAG labelled investment products has grown by 88% over the last twelve months, thus reflecting the growing importance of highlighting the ESG credentials of fund products and a strong growth in sustainable investment.
In addition, two new members have joined the LuxFLAG network, bringing the total number of associate members to 89. The newest members are Danske Invest, and Nordlux Vermögensmanagement.
The newly labelled ESG Funds are:
Aviva Investors Climate Transition European Equity
Comgest Growth Emerging Markets
Comgest Growth Emerging Markets Plus
Comgest Growth Europe
Comgest Growth Europe Plus
Comgest Growth World
Comgest Magellan
Comgest Monde
Comgest Renaissance Europe
CPR Invest - Global Equity ESG
CPR Japan ESG
Credit Suisse (Lux) Edutainment Equity Fund
Eiffel Impact Debt
FDC SICAV EUR Green Bonds - Actif 1
Fidelity Funds - Sustainable Eurozone Equity Fund
Fidelity Funds - Sustainable Reduced Carbon Bond Fund
Fidelity Funds - Sustainable Strategic Bond Fund
Franklin Liberty Euro Short Maturity UCITS ETF
Janus Henderson Horizon Global Sustainable Equity Fund
Moorea Fund - Euro Fixed Income
Moorea Fund - European Equity Quality Income
Nordea 1 - Emerging Stars Bond Fund
Nordea 1 - European Corporate Stars Bond Fund
Nordea 1 - European High Yield Stars Bond Fund
The fund which was granted the LuxFLAG ESG Label Applicant Fund Status is Empira ESG Office Top 7 SCS SICAV-RAIF. The newly-labelled Microfinance Fund is R-Co 4Change Impact Finance, while the newly-labelled Climate Finance Fund is BlackRock Global Renewable Power III.
LuxFLAG Labels are valid for a period of one year and are subject to renewal on expiry.