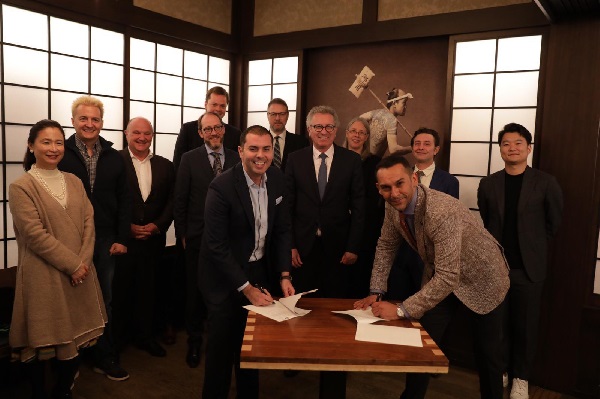 L-R (around table): Ahmed Shabana, Managing Director of Parkpine Capital; Pierre Gramegna, Luxembourg Finance Minister; Nasir Zubairi, CEO of The LHoFT; Credit: LHoFT
Luxembourg is set to host the first Global Venture Summit (GVS) in Europe this autumn.
The LHoFT Foundation and Silicon Valley based Venture Capital firm, Parkpine Capital, have signed a deal in San Francisco, in the presence of Luxembourg Finance Minister Pierre Gramegna, to hold the GVS for the first time in Europe. The Summit will bring over 100 leading Silicon Valley VCs to Luxembourg to meet and network with their European counterparts and connect with Luxembourg and European start-ups aiming to raise funds.
The Global Venture Summit brings "Silicon Valley to the World" and is the number one event focused on empowering scaleable technologies in high growth markets. GVS attendees include major US funds like Kleiner Perkins, Draper Nexus, Prtizker Group, Microsoft Ventures, HTC Ventures and many more. The first event is tentatively scheduled for October 2019 and the Summit will be held in Luxembourg on a yearly basis until at least 2022. The goal is to expose seasoned Silicon Valley VCs to the European start-up ecosystem, with a particular focus on Luxembourg. The collaboration aims to secure over USD $2B in valuation growth and funding to the extended Luxembourg ecosystem.
As a leading FinTech hub in Europe, Luxembourg is considered an ideal location to host the GVS for the first time in Europe. Over the years, a considerable number of FinTech companies, including leading industry players in e-commerce and e-payments have chosen Luxembourg as their European hub and new players are looking to develop and commercialise their activities in Europe by leveraging Luxembourg's highly developed financial ecosystem.
The GVS will have over 150 exhibitors and a pitch your start-up competition offering over $50,000 in pitch battle prizes for the winning teams. The Luxembourg Ministry of Finance, Digital Luxembourg and the LHoFT Foundation have now called on the whole Luxembourg start-up and Private Equity and Venture Capitalist community to work together to ensure the success of the GVS.
Finance Minister Pierre Gramegna commented: "Bringing the Global Ventures Summit to Europe will help unlock significant funding opportunities for European and Luxembourg-based start-ups with leading venture capital firms, and connect European innovation, including in the area of Fintech, with Silicon Valley, the leading venture capital hub in the world."