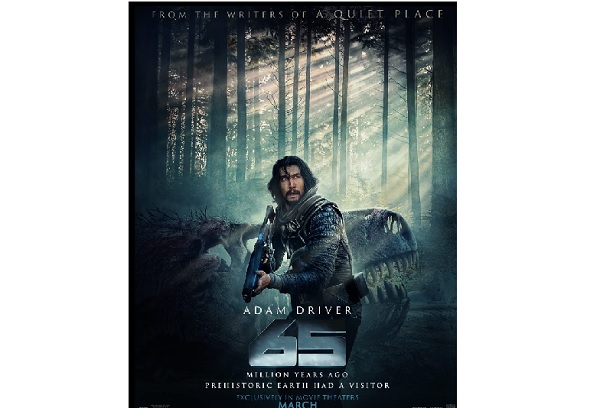 Directed and written by Scott Beck and Bryan Woods (The Bride Wore Blood (2006); Nightlight (2015); Haunt (2019)) - together, they also wrote A Quiet Place (2018), and starring Adam Driver (Marriage Story (2019); BlacKkKlansman (2018); House of Gucci (2021)) and Ariana Greenblatt (Avengers: Infinity War (2018); In the Heights (2021); Awake (2021)).

Action adventure / sci-fi; 93 mins; 12+

Set 65 million years ago, Mills (Adam Driver) is piloting a scaceship when it comes across an unchartered asteroid shower which damages his ship and he is forced to crash-land on an unknown planet which turns out to be earth...

The spacecraft is badly damaged and breaks in two, around 15 km apart. He discovers that there is one survivor, a young girl named Koa (Ariana Greenblatt); however, they do not have a common language which make communication difficult, but not impossible. She reminds him of his daughter whose backstory is revealed in drips, all the while while try to get to the other part of the spacescarft, lying precariously atop a mountain. To get there, they must navigate forests and swamps and, as they discover, dinosaurs...

A cross between Cast Away and Jurassic Park, often with tension from A Quiet Place. But the storyline of this small-scale thriller is quite basic and Adam Driver is no Tom Hanks, but the two actors do resonate off each other. It is enjoyable but nowhere near as good as the sum of its parts. The special effects are well done and are quite convincing.