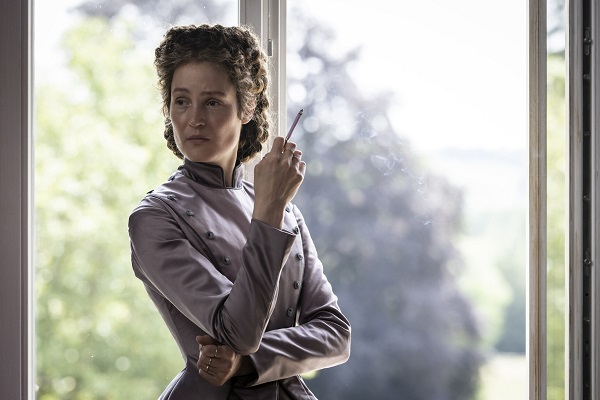 Vicky Krieps in Corsage; Credit: © Ricardo Vaz Palma / Alamode Film Scaled / SAMSA FILM
The Austria-Luxembourg-Germany-France co-production Corsage, a drama by Marie Kreutzer set in the late 1900s about Empress Elisabeth of Austria, wife of Emperor Franz Joseph, has been included in the short-list of 15 films in the International Feature Film category for the 95th Academy Awards.
The Academy Awards (the Oscars) are being held on Sunday 12 March 2023, with the formal nominations (cut from the short-lists) to be announced on Tuesday 24 January 2023. Yesterday, the Academy announced shortlists for 10 categories of awards. These included: Documentary Feature Film, Documentary Short Film, International Feature Film, Makeup and Hairstyling, Music (Original Score), Music (Original Song), Animated Short Film, Live Action Short Film, Sound and Visual Effects.
Members of the Academy decide on the films that comprise each shortlist, with a preliminary round of voting included.
The award ceremony will be held at the Dolby Theatre at Ovation Hollywood and will be televised live to more than 200 countries worldwide.
For the International Feature Film category, films from 92 countries were considered after meeting eligibility criteria. Academy members voting must watch all 15 shortlisted films to vote on which films receive formal nominations.
The short-listed films in the International Feature Film category are:
Argentina, Argentina, 1985
Austria, Corsage
Belgium, Close
Cambodia, Return to Seoul
Denmark, Holy Spider
France, Saint Omer
Germany, All Quiet on the Western Front
India, Last Film Show
Ireland, The Quiet Girl
Mexico, Bardo, False Chronicle of a Handful of Truths
Morocco, The Blue Caftan
Pakistan, Joyland
Poland, EO
South Korea, Decision to Leave
Sweden, Cairo Conspiracy
To read our film review of Corsage, click here.