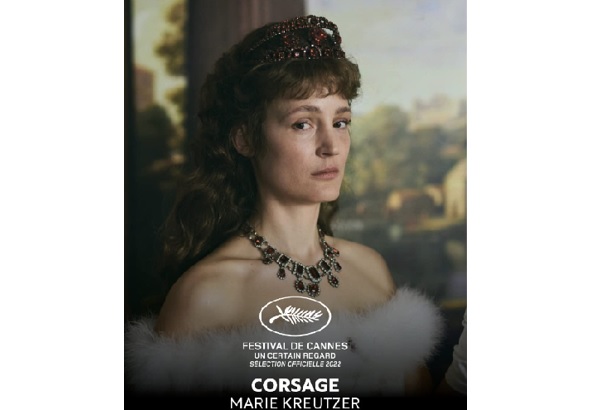 Written and directed by Marie Kreutzer (The Ground Beneath My Feet; The Fatherless) and starring Vicky Krieps (Phantom Thread; Old; Bergman Island; Gutland), Florian Teichtmeister (The Diary of Anne Frank; Die Chefin (TV Series)), Aaron Friesz (Hinterland; Freud (TV Series)) and Alma Hasun (Woman in Gold; Vienna Crime Squad (TV Series)).
Historical drama; 113 mins
Set in the late 19th century, in 1877-1878, those in the upper classes and certainly in nobility, have their place: in particular, women should really be seen and not heard, not voice their opinions and be very careful what they eat so as not to put on weight (hence the corsets). Court life was very formal and rigid, and her main duty was seen to give the emperor a son and heir.
In this fictionalised account of a couple years of her life, Empress Elisabeth (Vicky Krieps) turns 40, seen as a turning point in her life as she was once idolised for her beauty. Within the Austro-Hungarian empire, she is also Queen of Hungary, and she travels there from time to time. She had three children, one of whom died in infancy, and Crown Prince Rudolf (Aaron Friesz) understands his role well within the monarchy, sometimes frustratingly so for Empress Elisabeth.
She is portrayed as a lonely and unhappy figure whose really only close friends are her courtiers; we also see her in scenes with chambermaids. But she loves riding horses and travelling, and also exercises doing gymnastics, and she appears to like, and be good at, fencing too. She loves her children, but they appear to have been raised by others elsewhere in the palace.
In the film, Emperor Franz Joseph (Florian Teichtmeister) comes across as both stern and caring, quite a paradox at times. While he is consistently busy, Elisabeth becomes restless and decides to travel.
The setting is magnificent, yet some of the buildings used in indoor scenes have fixtures and fittings that are out of place for that period, with the modern ship in the final scenes another example. It would have been interesting to focus on some of the travelling she did: while the horse-drawn carriages were shown in multiple scenes, one trip featured in the film was to England which would not have been an insignificant trip in those days.
Nevertheless, Vicky Krieps gives a superb performance, reminiscent of being alongside Daniel Day-Lewis in Phantom Thread but, unlike in that film, here she is the star, the leading lady, the centre of attention. While the film focussed on the Empress' life, it is somewhat a pity that Emperor Franz Joseph did not have a larger role so the audience could see them together more, enabling Vicky Krieps to showcase her undoubted acting talents with others.
Not a film to watch if one is looking for historical accuracy. But it is fascinating, nonetheless.
The avant-première of Corsage is on Friday 2 September 2022 at Kinepolis-Kirchberg; on general release from 7 September 2022.