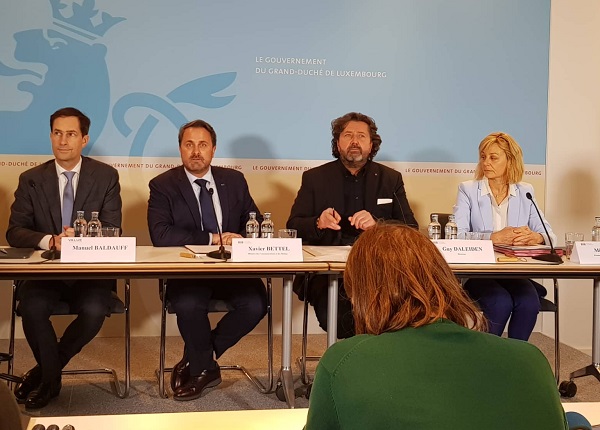 L-R: Manuel Baldauff, founder of Value Associates SA; Prime Minister Xavier Bettel; Guy Daleiden, Director of the Film Fund; Michèle Bram, President of the Film Fund Board of Directors; Credit: Jazmin Campbell
On Monday 11 November 2019, Film Fund Luxembourg (Fonds national de soutien à la production audiovisuelle) presented its annual report for 2018.
At a press conference, Guy Daleiden, Director of the Film Fund, Michèle Bram, President of the Film Fund Board of Directors, Manuel Baldauff, founder of Value Associates SA, and Luxembourg's Prime Minister Xavier Bettel, discussed the local film industry's results for the last year.
In 2018, the Film Fund received 122 applications for selective financial aid, from which it decided to grant a total of €36,200,444 to 46 projects. This included €390,000 for writing and/ or development assistance (twelve projects) and €35,810,444 for support for production (34 projects), including two Cineworld projects which received €270,000 in selective financial aid.
The Film Fund also allocated €322,500 of "Carte Blanche" assistance to twelve production companies, €72,500 to eight writers, 26 grants worth a total of €36,491 and thirteen subsidies worth €119,018. Financial assistance for promotional purposes amounted to €253,682 for eighteen projects.
In addition, the fund allocated €40,803 to five music clip projects and the partnership between the Film Fund and the Fonds des medias du Canada allowed five projects to receive a total of €281,239 in selective financial aid.
Much of the report presentation was dedicated to explaining the results of the Film Fund's financial audit for the year 2018, which has been accepted by the Board of Directors. In this context, Manuel Baldauff from Value Associates, which was in charge of the audit, dispelled rumours of "soft auditing" and maintained that the audit was carried out in the correct manner. He explained that the results were "globally considered good", although a few suggestions were made for improvement. He expressed content with the Film Fund's willingness to act on these recommendations, for instance through the recruitment of a statistician and making the report more technical and precise.
Another recommendation was putting money in a reserve (ie money that the fund gets back from productions that fall through) so that projects can receive funding throughout the year and not just projects presented at the very start of the year when the budget is at its highest. Manuel Baldauff added that the audit analysed the Film Fund's new "one-to-one" system, which replaced the previous points system, for funding: the audit found that the allocation of financial aid has become more direct and transparent and makes Luxembourg more attractive as a partner in the film industry.
In the Q&A session that followed the presentation, Guy Daleiden reiterated the impact of the Film Fund's regime change in 2014, namely that the experts on the Selection Committee focus more on cultural and social criteria than economic criteria (although the three criteria themselves remain unchanged). Both he and Prime Minister Xavier Bettel recalled that the Luxembourg film industry cannot compete with Hollywood's blockbusters and addressed the fact that although demand for film production continues to rise, fewer people actually go to the cinema. In this regard, they emphasised that film production success cannot be judged in economic terms alone in Luxembourg, but rather that the offer is there. For instance, Xavier Bettel and Guy Daleiden highlighted the success of the RTL Luxembourgish language series "Capitani" which attracts some 200,000 viewers every week.
Regarding quality checks, Manuel Baldauff emphasised the need for Selection Committee members to look at quality "in absolute terms" and use their experience and skillset to anticipate the chances of a project being taken by the likes of ARTE or Netflix or getting selected at festivals. He recalled that there is more demand for funding than ever and, as Guy Daleiden added, more and more Luxembourg co-productions are being selected at festivals and winning prizes.
To conclude, Prime Minister Xavier Bettel reiterated that, for him, supporting the local film industry is "not an expense, it's an investment".