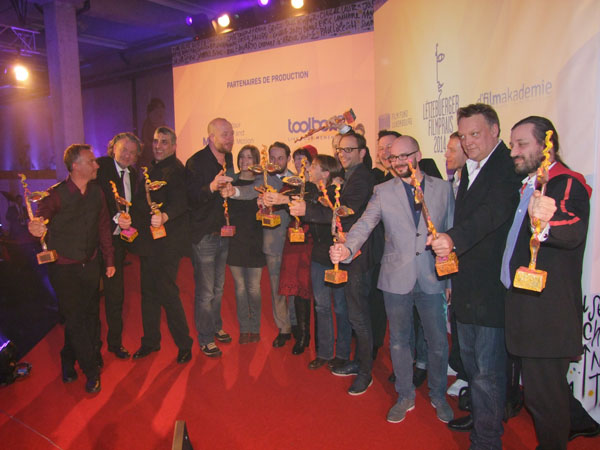 On Tuesday evening at the Christmas reception organised by the Luxembourg Film Academy at the Rotondes in Bonnevoie, the list of nominations were announced for the upcoming "Lëtzebuerger Filmpräis" to be held Saturday 5 March 2016 at the Grand Theatre of the City of Luxembourg.
The President of the Filmakademie, Claude Waringo, made the announcement at the event which officially launched the 7th edition of "Lëtzebuerger Filmpräis", along with the director of the Film Fund Luxembourg, Guy Daleiden.
The list includes a total of 9 short films, 16 co-productions, 4 Luxembourg feature films, 9 documentaries, 3 feature films and 3 animated short films who will all compete for the coveted trophy. In total the Academy has selected 30 nominations, including 14 for the prize for best artistic contribution and 16 for the prize for best technical contribution.
As in the previous edition, the awards will be decided by professionals from the film industry who are members of the "Filmakademie" by an online vote. New this year, members of the academy can view the films in contention via an online platform (www.vodfilmprais.lu) on which they can gain entry with a secure access code. All industry professionals are eligible to join the Academy as an associate member and vote for the 2016 Filmpräis.
NOMINATIONS
Prize for the Best Luxembourg Feature or Animation Film
- Baby(a)lone (IRIS PRODUCTIONS) by DONATO ROTUNNO - DRAME (98 min)
- Eng Nei Zäit (Samsa Film) by Christophe Wagner - Historic Thriller (106 min)
- Les Brigands (Red Lion) by Frank Hoffmann, Pol Cruchten - Police Thriller (80 min)
- Mammejong (Lucil Film) by Jacques Molitor - Coming-of-age Drama (85 min)
Prize for the Best Fiction Film (Co-Production)
- Amour Fou (AMOUR FOU Luxembourg) by Jessica Hausner - Fiction (96 min)
- Brabançonne (Samsa Film) by Vincent Bal - Musical comedy (100 min)
- Clownwise (Tarantula Luxembourg) by Viktor Taus - Comedy drama (115 min)
- Colonia (IRIS PRODUCTIONS) by FLORIAN GALLENBERGER - Drama (110 min)
- Disparue En Hiver (IRIS PRODUCTIONS) by CHRISTOPHE LAMOTTE - Drama (100 min)
- Fieber (AMOUR FOU Luxembourg) by Elfi Mikesch - Fiction (80 min)
- L'enquête (Samsa Film) by Vincent Garenq - Thriller (106 min)
- La Volante (Tarantula) by Christophe Ali and Nicolas Bonilauri - Thriller (90 min)
- Le Dernier Diamant (Bidibul Productions) by Eric Barbier - Crime Drama (108 min)
- Le Tout Nouveau Testament (Juliette Films) by Jaco van Dormael - Drama (113 min)
- Melody (Samsa Film) by Bernard Bellefroid - Drama (94 min)
- Préjudice (Samsa Film) by Antoine Cuypers - Drama (105 min)
- Secrets Of War (Tarantula Luxembourg) by Dennis Bots - Family drama (95 min)
- Sunset Song (IRIS PRODUCTIONS) by TERENCE DAVIES - Drama (135 min)
- The Dark Side Of The Moon (IRIS PRODUCTIONS) by STEPHAN RICK - Thriller (98 min)
- Wiplala (Samsa Film) by Tim Oliehoek - Comedy (93 min)
Prize for the Best Animated Feature Film (Co-Production)
- Extraordinary Tales (Mélusine Productions) by Raul Garcia - Fantasy drama (73 min)
- Song Of The Sea (Mélusine Productions) by Tomm Moore - Fantasy drama (93 min)
- Two by Two - Oops...the Ark Has Gone (Fabrique d'Images) by Sean McCormack - Animation (85 min)
Prize for the Best Short Film - Fiction
- À Quoi Bon? (Centre National de l'Audiovisuel / Service National de la Jeunesse) by Thierry Faber - Fiction (19 min)
- D. A Reproduction (Red Lion) by Anne Simon - Drama (19 min)
- Elderly Spring (Red Lion) by Pierre Hansen - Drama (16 min)
- Et Wor Alles Wei Ëmmer (LES FILMS FAUVES) by Max Jacoby - Drama ( min)
- Livrées à Leurs Sens (arts vivants asbl) by Jules Fischer alias Cecilia Guichart - Drama (16 min)
- Morgue (Feierblumm asbl) by Laurent Prim - Drama (14 min)
- Quenottes (Zeilt Productions) by Pascal Thiebaux, Gil Pinheiro - Fantasy Drama (12 min)
- Roxy (Milli Productions) by Fabien Colas - Drama (17 min)
- The Heat Wave (Calach Films) by Lucía Valverde - Comedy (18 min)
Prize for the Best Short Film - Animation
- La Misère (Red Lion) by Thierry Guitard, Philip Krieps - Animation (12 min)
- The Light Eater (Fabrique d'Images) by Sean McCormack - Animation (85 min)
- Wurst (Carlo Vogele) by Carlo Vogele - Satire (6 min)
Prize for the Best Documentary Film
- Black Harvest (ANTEVITA FILMS) by JEAN-LOUIS SCHULLER, SEAN CLARK - Documentary (87 min)
- De Bopebistro Tour (MASKéNADA) by Yann Tonnar - Documentary (69 min)
- E Futtballspill Am Schnéi Erënnerungen Un De Roger Manderscheid (Samsa Film) by Anne Schiltz and Tom Alesch - Documentary (52 min)
- Faustino One Man Show (Juliette Films) by Andy Bausch - Documentary (90 min)
- Jean, Grand Duc Vu Lëtzebuerg (CLT-UFA/RTL) by Jacques van Luijk / Misch Bervard - documentary (112 min)
- Mos Stellarium (Tarantula Luxembourg) by Karolina Markiewicz and Pascal Piron - Documentary (52 min)
- Oro Libre (IRIS PRODUCTIONS) by GAELLE TAVERNIER - Social Documentary (52 min)
- Soundhunters (a_BAHN) by BERYL KOLTZ - Documentary (52 min)
- Succès Fox (Deal Productions) by Désirée Nosbusch - Documentary (80 min)
Prize for the Best Artistic Contribution
- LUC FEIT (Actor) for the film DARK SIDE OF THE MOON
- FABIENNE HOLLWEGE (Actor) for the film ENG NEI ZÄIT
- ANDRÉ JUNG (Actor) for the film ENG NEI ZÄIT
- VICKY KRIEPS (Actor) for the film COLONIA
- MARCO LORENZINI (Actor) for the film LE TOUT NOUVEAU TESTAMENT
- LUC SCHILTZ (Actor) for the film ENG NEI ZÄIT
- JEANNE WERNER (Actor) for the film COLONIA
- ANDRÉ DZIEZUK (Music) for the film ENG NEI ZÄIT
- ANDRÉ DZIEZUK (Music) for the film SECRETS OF WAR
- ANDRÉ DZIEZUK (Music) for the film BLACK HARVEST
- ANDRÉ DZIEZUK (Music) for the film COLONIA
- ANDRÉ MERGENTHALER (Music) for the film FIEBER
- TULLIO FORGIARINI, DONATO ROTUNNO, NICOLAS STEIL (Scenario) for the film BABY(A)LONE
- VIVIANE THILL, CHRISTOPHE WAGNER (Scenario) for the film ENG NEI ZÄIT
Prize for the Best Technical Contribution
- MAGDALENA LABUZ (Costumes) for the film ENG NEI ZÄIT
- ULI SIMON (Costumes) for the film SUNSET SONG
- ULI SIMON (Costumes) for the film SECRETS OF WAR
- CHRISTINA SCHAFFER (set design) for the film FIEBER
- JAKO RAYBAUT (Image) for the film ENG NEI ZÄIT
- JEAN-LOUIS SCHULLER (Image) for the film BLACK HARVEST
- CLAUDINE MOUREAUD, BÉATRICE STEPHANY (Make-up) for the film ENG NEI ZÄIT
- KATJA REINERT (Make-up) for the film SECRETS OF WAR
- PIA DUMONT (Montage) for the film FIEBER
- JEAN-LUC SIMON (Montage) for the film ENG NEI ZÄIT
- JEAN-LUC SIMON (Montage) for the film MELODY
- PHILIPPE KOHN, FRANÇOIS DUMONT (Sound) for the film L'ENQUÊTE
- CARLO THOSS (Sound) for the film ENG NEI ZÄIT
- CARLO THOSS (Sound) for the film COLONIA
- MARC THILL, LOÏC COLLIGNON (Sound) for the film SOUNDHUNTERS
- CARLO THOSS, NICOLAS TRAN TRONG, MICHEL SCHILLINGS, LOÏC COLLIGNON (Sound) for the film BRABANÇONNE
Photo by Geoff Thompson of the winners at the 2014 FilmPrais