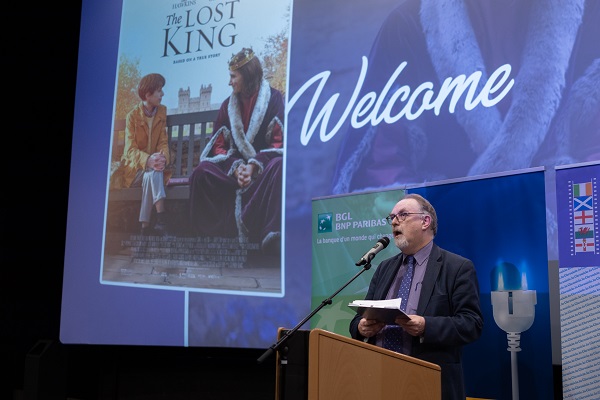 Geoff Thompson, BIFFL coordinator; Credit: Ali Sahib
The British & Irish Film Festival Luxembourg's (BIFFL) first Spring Festival came to a close in front of an almost full house at Ciné Utopia in Luxembourg-Limpertsberg on Friday evening.
The BIFFL 2023 Spring Festival screened eleven feature films from Britain and Ireland and one short documentary by local photographer/filmmaker Ali Sahib at Ciné Utopia between Sunday 19 and Friday 24 March 2023; the Autumn Festival will take place at the Cinémathèque from Monday 18 to Friday 22 September 2023.
About 200 spectators (the largest audience this edition) came together for the Spring Festival's closing screening of The Lost King, a 2022 British comedy-drama based on the true story of how amateur historian Philippa Langley trusted her instincts and led the (successful) search for the remains of King Richard III.
Ahead of the closing screening, BIFFL coordinator Geoff Thompson reflected on the success of this first Spring Festival, which featured special guest actor Lorcan Cranitch and two film screenings in collaboration with Ciné Utopia (Kinepolis): Emily (screened on Wednesday) and The Lost King, both of which will go on general release in Luxembourg in the coming weeks.
He also announced the winners of this edition's awards: the Critics' Award went to the Irish-language film Tarrac, which also placed third in the Audience Award, behind Lola in second place and An Cailín Ciúin (The Quiet Girl) in first place; the Audience Prize went to Anna Fox and Catriona Foley, who won a magnum of Crémant from Bernard-Massard and a hamper from Home from Home, respectively.
David Carvalho Soares, Booking and Programming Assistant at Kinepolis, presented the prizes to the winners and praised this collaboration with BIFFL in facilitating access to certain films in Luxembourg. He added that in addition to Emily and The Lost King, the popular An Cailín Ciúin (The Quiet Girl) will go on general release in Luxembourg in the coming months.
Geoff Thompson concluded by thanking BIFFL's sponsors and partners, volunteers and the audience for making this first Spring Festival a success.