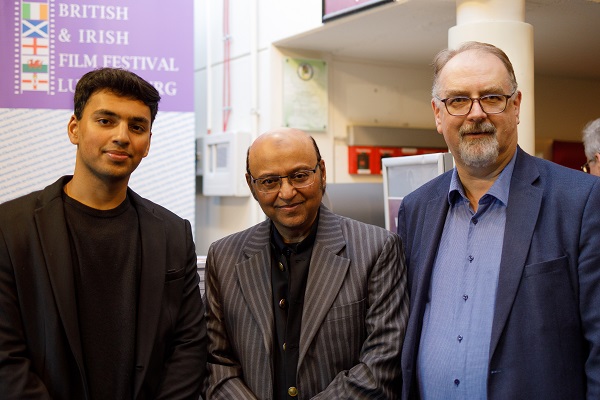 L-R: Alishaan Khan; Wajahat Khan; Geoff Thompson; Credit: Ali Sahib
The 13th Annual British & Irish Film Festival Luxembourg (BIFFL) is now well underway; the weekend had plenty for everyone, with members of the audience enquiring if some films screened would make their way into commercial cinemas in Luxembourg.
Festival organiser Geoff Thompson told Chronicle.lu that, at the current time, just one film from the festival programme is expected to go on general release in Luxembourg; however, it is possible that others could end up being screened here in the future. "It all depends on distribution rights and how these are negotiated", he explained.
Following the Opening Screening on Friday evening of the English drama The Phantom of the Open and the later film screened the same evening, the English crime drama-cum-musical The Score starring Will Poluter, Saturday saw two films, the documentary Continuing Traditions and the drama Long Way Back.
It was the first of those, however, that stole the show. With Wajahat Khan and his son Alishaan over for the screening, the audience was spellbound by director's Dónal Ó Céilleachair capturing the two-year process that culminated with a performance at the Galway Arts Festival where both Irish traditional music and Indian classical music were brought together. The film portrayed the complexities of doing so, with Wajahat Khan and Peadar Ó Riada highlighting the similarities and differences between the two musical traditions. In the post-screening Q&A, Wajahat Khan answered questions from the audience which continued long afterwards during a reception where musicians from the Luxembourg branch of Comhaltas Ceolteoiri Eireann performed together (for the first time since before COVID-19 restrictions) and those attending enjoyed Luxembourgish crémant and Indian finger food.
On Sunday, the festival audiences were treated to three screenings: the Scottish historical drama The Road Dance, the first of two Irish-language dramas Doineann and the English drama Boiling Point. It was the last of these that had an almost full screening room and the audience was gripped from start to finish by this high-energy drama which has everyone tensed throughout at Stephen Graham portrayed a chef at a high-end English restaurant over one evening which was filmed in one continuous shot.
With seven of the thirteen feature films now screened, the next six days will see two Documentary Double Bills, three Special Events and the Awards and Closing Screening. See www.bifilmseason.lu for the programme and schedule.