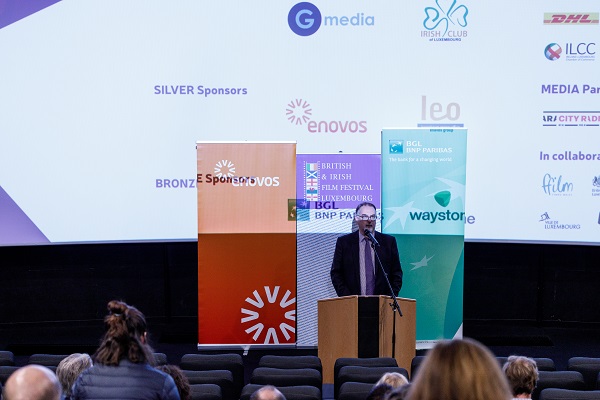 Geoff Thompson, BIFFL organiser; Credit: Ali Sahib
Friday 16 September 2022 marked the launch of the 13th edition of the British & Irish Film Festival Luxembourg (BIFFL), with a screening of "The Phantom of the Open" at Ciné Utopia in Luxembourg-Limpertsberg.
Following a reduced 2020 edition (25% capacity) and a hybrid 2021 edition (amid COVID-19 restrictions), the BIFFL is back this year in its traditional 100% in-cinema format.
Ahead of the opening screening on Friday evening, festival organiser Geoff Thompson described the past couple of years as "interesting times" for film production, an industry which was hit hard by the pandemic. Whilst filming itself often had to be postponed or cancelled, writing continued. Many titles set for release in 2020 or 2021 were not released until late last year or even this year; some are yet to be released. "We are in a period of catch-up", Geoff said, adding that it was important also to support cinemas for whom the pandemic has not been easy. He noted that many people were ready to return to the cinema, but for others it might still be too soon.
Geoff went on to thank the film festival's many sponsors, partners, advertisers and volunteers for their support. He recalled that, in addition to thirteen feature films and two short films this year, the film festival will host four events and several special guests:
- a screening of "Continuing Traditions" about India and Ireland's shared musical heritage, in partnership with the Indian Business Chamber of Luxembourg (IBCL) and featuring live music by two of the film's Indian musicians who are flying over from London and musicians of Comhaltas Ceoltóirí Éireann, on Saturday 17 September 2022;
- a short seminar on "The Business of... Film Production" with Siún Ní Raghallaigh (formerly CEO of Ardmore Studios), in collaboration with the Ireland Luxembourg Chamber of Commerce (ILCC), following the screening of "Foscadh" (Shelter) on Tuesday 20 September 2022;
- a seminar about Alfred Hitchcock called "Hitchcock: Actor and Performer" with Paul Lesch (Director of the Centre National de l'Audiovisuel - CNA), in collaboration with the British Chamber of Commerce for Luxembourg (BCC), on Wednesday 21 September 2022;
- a "Solidarity with Refugees" event featuring screenings of two short films, "From Iraq to Ukraine" (world premiere) and "Home from Home", in partnership with Kachen, Chronicle.lu and LUkraine asbl, on Thursday 22 September 2022.
This year, the film festival is taking place across two venues: Ciné Utopia in Luxembourg-Limpertsberg and the Cinémathèque in Luxembourg-Ville.
This year's opening film was "The Phantom of the Open", a 2021 British biographical comedy-drama film based on the exploits of "golfer" Maurice Flitcroft, who attracted attention after he obtained the worst score at the British Open Championship (1976). Directed by Welsch actor-director Craig Roberts and written by English actor, comedian and writer Simon Farnaby, the film had its world premiere at the 65th BFI London Film Festival on 12 October 2021. Among its award-winning cast are English actor, playwright and theatre director Mark Rylance (Bridge of Spies, 2015; The BFG, 2016; Don't Look Up, 2021) as Maurice Flitcroft, English actress Sally Hawkins (Persuasion, 2007; Blue Jasmine, 2013; Spencer, 2021) as Maurice's endlessly supportive wife Jean Flitcroft and Welsch actor and musician Rhys Ifans (Notting Hill, 1999; Kevin & Perry Go Large, 2000; Harry Potter and the Deathly Hallows – Part 1, 2010; The King's Man, 2021) as Keith Mackenzie, then secretary of the Royal and Ancient Golf Club of St Andrews.
In this humorous and at times emotional drama, Maurice Flitcroft reaches for the stars, not letting anything stand in the way of his professtional golfing dreams - not even the fact that he is not very good at the sport. As per his mantra:: "Practice is the road to perfection". Speaking to Chronicle.lu, festival organiser Geoff Thompson explained that he had wanted to start the festival with an upbeat film - considering the reaction of the audience, who laughed throughout the screening (and maybe even shed a tear or two), "The Phantom of the Open" appears to have fit the bill.
The opening screening was followed by a screening of the 2021 British musical heist film "The Score", directed by Malachi Smyth and starring Johnny Flynn (Stardust, 2019; Emma, 2020), Naomi Ackie (TV series: The End of the F***ing World; Star Wars: The Rise of Skywalker, 2019) and Will Poulter (The Chronicles of Narnia: The Voyage of the Dawn Treader, 2010; We're the Millers, 2013; The Maze Runner, 2014).
The 13th edition of the British & Irish Film Festival Luxembourg is running until Saturday 24 September 2022 (inclusive). Further details are available at www.bifilmseason.lu.