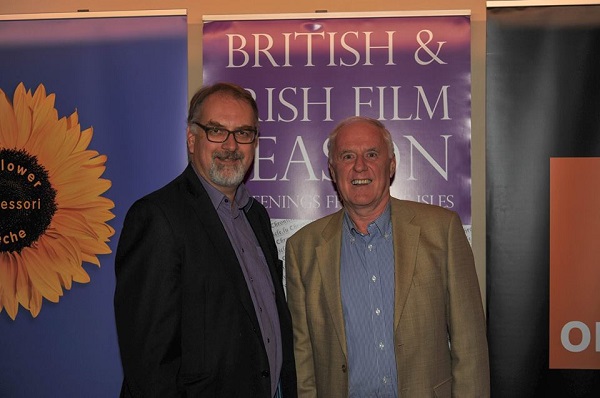 BIFS 2018 Closing (L-R): Geoff Thompson, BIFS organiser; Peadar Carpenter, Irish Ambassador;
The curtain came down on the 9th British & Irish Film Season in Luxembourg on Saturday evening with the screening of Nick Kelly's "The Drummer and the Keeper", an emotional drama about an unlikely friendship between a chaotic but aspiring drummer in a rock band who is diagnosed as bipolar, and an institutionalised 17 year-old with Asperger's Syndrome who enjoys playing football as goalkeeper.
Preceding the screening were the Closing Speeches at which the Ambassador of Ireland to Luxembourg, Peadar Carpenter, thanks the organisers for a great festival which showcased the best of contemporary film from Britain and Ireland, and was already looking forward to next year when the festival would be celebrating its 10th anniversary.
Festival Organiser, Geoff Thompson, thanked both the British and Irish Ambassadors, the sponsors and event partners, the volunteers the Edinburgh International Film Festival and the Galway Film Fleadh, and the directors, producers and actors who had travelled over to present their films and take part in post-screening Q&As, a signature of the festival in recent years.
He reflected on the season and told of the appreciation of the planning when he saw full screening rooms and people discussion the films after the projections.​
He reported a 20% increase in attendance figures over the past 11 days when a total of 16 feature films, 2 shorts, 2 documentary double bills and 2 Luxembourg co-productions were screened. Then came the awards:
- BIFS 2018 Film Quiz winners: "Never been quizzed"
- Audience Award: "Camino Voyage", closely followed by "Swimming with Men", "In the Name of Peace: John Hume in America" and "Black 47".
- Audience Prize: Marguerite McMahon, who won 2 return flights to Dublin or LondonCity with Luxair.
- Critics Award: "Swimming by Men" - announced by Pablo Chimienti, President of the Luxembourg Film Critics Association (ALPC)
For photos of the BIFS Closing event, click here.