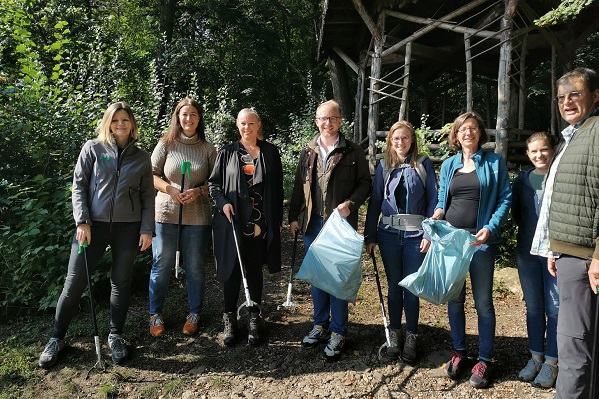 Credit: ORT Mullerthal Region - Luxembourg's Little Switzerland
The second edition of the "Mëllerdall Cleanup Day", organised by the Regional Tourist Office (ORT) of the Mullerthal Region – Luxembourg's Little Switzerland, took place on Saturday, as part of World Cleanup Day.
The event was officially launched with a press meeting, under the CovidCheck regime, at Trooskneppchen viewpoint in Echternach.
ORT President Christophe Origer welcomed Luxembourg's Minister of the Environment, Carole Dieschbourg, as well as MP Carole Hartmann. Members of the municipal council, the management of LEADER Mëllerdall and Natur- & Geopark Mëllerdall were also present.
Christophe Origer also officially launched the new LEADER project "Propper Regioun" (clean region) which will be carried out together with many actors from the region. ORT Managing Director Linda Salentin spoke of how the local tourism unions (Syndicats d'Initiative de Tourisme) often said they were faced with an increasing amount of waste, which was the reason behind this new LEADER project. A working group was set up along with the municipalities and local tourist offices, the Natur- & Geopark Mëllerdall, the foresters, the National Roads Administration, the Natura 2000 committees (COPIL) and the Nature and Forest Agency. Anti-littering campaigns will follow soon.
A long-term goal in the region is zero waste, a concept that Environment Minister Carole Dieschbourg also strongly supports. 180 countries take part in World Clean Up Day every year. The minister praised the fact that the Mëllerdall Cleanup Day formed part of this global initiative. She emphasised the importance of the cooperation of many actors in the region, because the problem can only be tackled together. Zero waste is also a goal pursued by the Chamber of Deputies (Luxembourg's parliament).
Many hikers set out on Saturday, equipped with a rubbish bag and gloves, to free more than 200 km of hiking trails from dirt and rubbish. The ORT and many participants had already noticed last year that not much rubbish had been found along the hiking trails, but rather along the roads. Rubbish bins set up in front of the local tourist offces enabled the hiking collectors to dispose of their bags right after the hike. In general, less garbage was collected than in previous years, and none of the bins were too full.