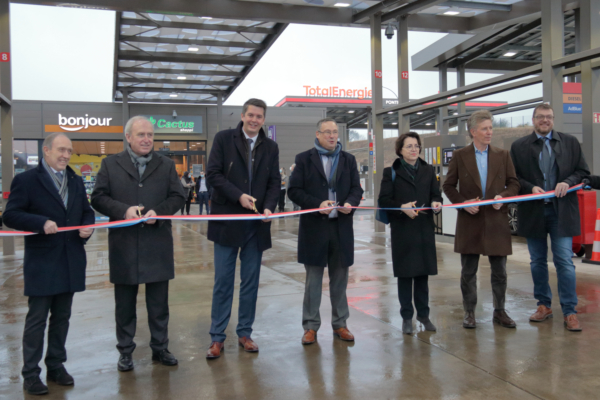 (L-R) Serge Gaspar, Jeannot Fürpass, Lex Delles, Patrick Schnell, Claire Lignières-Counathe, Laurent Schonckert and Marc Schramer; Credit: Kangkan Halder
On Wednesday 19 January 2022, TotalEnergies inaugurated its 45th filling station in Luxembourg in the presence of the Minister for Small and Medium-Sized Enterprises and Minister for Tourism, Lex Delles, and Ambassador of France to Luxembourg, Claire Lignières-Counathe.
The new filling station in Pontpierre, accessible via the A4 motorway towards Esch-sur-Alzette, is also the fifth in TotalEnergies network with 24x7 operation, i.e. 24 hours every day, seven days a week.
The filling station has been open since 15 December 2021.
Patrick Schnell, Managing Director of TotalEnergies in Luxembourg, said: "We are proud to be able to continue to strengthen our network and our presence in Luxembourg with the opening of this new station on a major motorway axis. We have also been able to create nearly 20 jobs, allowing us to better serve our customers".
The 180 m2 shop also includes a Cactus shoppi convenience store, their 35th installation, offering among other things, salads, sandwiches and Fairtrade pastries.
Laurent Schonckert, administrator-director of the Cactus group, said: "Anxious to satisfy each of our customers, our Cactus teams are proud to complete their offer by this presence on a motorway axis not served until now".
The filling station is equipped with two lorry pumps and six car pumps, able to cater up to four trucks and twelve cars simultaneously. In addition, the site has fifteen parking spaces for lorries and 25 parking spaces for cars.
TotalEnergies employs over 400 people in Luxembourg.