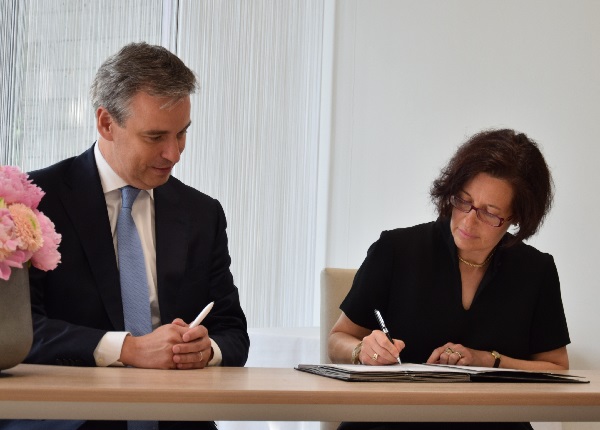 L-R: Claude Meisch, Minister of National Education, Childhood and Youth; Richelle Budd Caplan, Director of the European Department of Yad Vashem's International School for Holocaust Studies; Credit: MENEJ
The Luxembourg Ministry of Education has signed a partnership agreement with the Israeli Yad Vashem Memorial to cooperate in Holocaust education.
On 4 June, the Luxembourg Minister of National Education, Children and Youth, Claude Meisch, and Richelle Budd Caplan, Director of the European Department of the International School for Holocaust Studies of Yad Vashem, signed a declaration of common intention to cooperate in the field of teaching the history of the Holocaust. This is the first agreement of its kind between the Grand Duchy and the Yad Vashem - World Holocaust Remembrance Center, the International Institute for the Memory of the Holocaust in Jerusalem.
Cooperation will include continuing education programmes for teachers. Participants will learn more about Jewish life before, during and after the Holocaust. In addition, Yad Vashem will provide Luxembourg educational authorities with access to information and educational material on the Holocaust and will cooperate in the development of educational materials on the subject.
Faced with the observation of a resurgence of anti-Semitism in many European countries, a deep reflection on the teaching of the crimes of the past, awareness-raising and education among young people has been deemed necessary.
The path to this agreement has been drawn not only by Yad Vashem, but also by the MERCi Foundation (European House for the Radiation of Citizenship) and the association "Witnesses of the 2nd Generation". Since 2016, they allow five Luxembourg teachers to take part in Holocaust education seminars with Yad Vashem every year. The training is recognised by the National Education Training Institute.