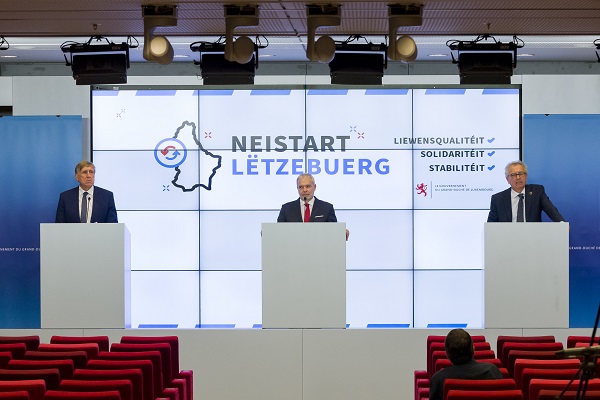 (L-R): François Bausch, Deputy PM; Dan Kersch, deputy PM ; Pierre Gramegna, Minister of Finance; Credit: © SIP / Jean-Christophe Verhaegen, all rights reserved
On Wednesday 20 May 2020, the ministers of Luxembourg's Ministry of Labour, Employment and the Social and Solidarity Economy, together with the Ministry of Mobility and Public Works and the Ministry of Finance announced a series of support measures as Luxembourg continues its preparation for economic recover from the lockdown and State of Emergency in place as a result of the COVID-19 pandemic.
Deputy Prime Minister, Dan Kersch, Deputy Prime Minister, François Bausch, and Minister of Finance, Pierre Gramegna, presented a package of support measures that is estimated to cost the state between €700 - €800 million, meaning that the government has so far made available direct spending up to €3 billion, or 5% of GDP, to support the economy.
Encouraging employment, supporting businesses in the most affected sectors and promoting a sustainable economic recovery: these are the three priorities of this package called "Neistart Lëtzebuerg" and which aims for a sustainable and united recovery of the Luxembourg economy.
The 23 new measures proposed as part of the package will help to maintain employment and initiate recovery in the sectors most affected by the crisis through the creation of a new recovery and solidarity fund for businesses as well that new restart aid for the retail trade, to support national tourism and to accelerate the transition to a more sustainable economy.
Over the next few months, these measures will support businesses and employees towards post-COVID-19 economic normality and will gradually take over from the measures in the economic stabilisation package, developed by the government to support the economy in the face of the immediate consequences of the pandemic.
Simplified structural partial unemployment for the most affected sectors
The plan proposes to guarantee access to simplified structural partial unemployment to companies affected by the pandemic crisis, starting in July. It follows that companies must present a recovery plan, or even a job retention plan, redundancies in the structural partial unemployment system being authorised, but to be avoided as far as possible. Note that companies will benefit from a simplified or even ultra-simplified digital procedure. This will allow companies to reorganise in order to better adapt gradually to the post-COVID-19 situation.
Business recovery and solidarity fund to support the sectors most affected by the COVID-19 crisis
A recovery and solidarity fund for companies will be set up for a period of 6 months starting on 1 July to offer companies in the Horeca, events (including cultural) sectors, the tourism sector as well as physical culture centres, direct monthly aid of €1,250 per employee on the job and €250 per employee on partial unemployment. This fund will be complementary to simplified structural partial unemployment for these sectors in a double perspective to support the recovery of activities and encourage the retention in employment.
This aid will be granted to companies which do not yet have the authorisation to reopen today. To benefit from the aid, companies must decide to resume their activities and must have suffered a loss of at least 25% of turnover. Aid can reach a maximum of €10,000 per month for companies with less than 10 employees, €50,000 per month for companies with less than 50 employees and €100,000 per month for companies with more than 50 employees.
Lump sum stimulus aid for retail trade
In order to support the retail trade in stores with reception of the public (excluding food) as well as the personal care sector, which were able to resume their activities from 11 May, a new flat-rate aid will be granted over a period of three months up to €1,000 per employee in June, €750 in July and €500 in August, up to a ceiling of €50,000 per month. This measure is limited to SMEs (less than 250 employees).
Other support measures
In order to support national tourism, a voucher worth €50 for one night in an accommodation structure (hotel, etc.) in Luxembourg will be granted to each citizen from the age of 16 as well as to each salaried cross-border worker.
In addition, the new plan encourages landlords to reduce corporate rents in commercial leases, by introducing a tax reduction corresponding to twice the amount of the rent reduction granted up to €15,000. This measure will make it possible to alleviate possible cash flow problems for companies and to support them during the first months of recovery. In addition, in the context of non-commercial leases, the government has decided that no increase in rents should occur before the end of the year.
In addition, the aid scheme for companies in temporary financial difficulty will be extended for a period of 4 months. Companies will be able to request an additional repayable advance to cover part of their costs between 15 May and 15 September 2020, thus benefiting from additional flexibility to meet liquidity needs.
In order to support lawyers and trainee lawyers working under the legal aid scheme, the hourly rates of legal aid will be increased by 10%.
Specific aid will be introduced to support the revival of culture and artistic creation, as well as in particular in the sports sector.
Finally, the government wants to support households most affected by this crisis by doubling the cost of living allowance for low-income people and by introducing family support leave for people who have been forced to stop work to take care of adults with disabilities or the elderly.
In order to avoid that students registered during the summer semester 2019/2020 in a higher education programme and benefiting from state financial aid for higher studies are penalised, the maximum duration of the aid will be extended.
An initiative to stimulate sustainable business investment in the COVID-19 era
The current crisis continues to worsen the investment climate. Consequently, a new aid instrument from the Ministry of the Economy aims to encourage companies, with particularly favourable subsidy levels, to make investments, in particular relating to the digitisation of their activities or measures to energy efficiency to increase their productivity and competitiveness over the long term. This aid instrument is already part of a policy of sustainable economic recovery in order to rebound as quickly as possible after the crisis that companies are currently going through.
The new scheme provides for 3 aid components, namely investment aid for development projects, investment aid for process and organisational innovation projects and aid for investment in energy efficiency projects or exceeding standards. Providing an aid intensity of up to 50% of eligible costs with a maximum of €800,000 per project, the new scheme thus provides higher amounts of investment aid than in normal times, in particular for projects relating to the development of the circular economy.
A sustainable post-corona recovery
In addition to immediate financial and fiscal measures, in the short term for the various sectors of the economy, it is important to take advantage of the recovery to accelerate the economic transition to ecological sustainability. The government has declared its desire to keep investments at a high level for the current year and that they would even increase by 6.3% compared to 2020.
Over the next few months, the government will discuss likely arrangements for the investment programme to accelerate the creation of infrastructure for sustainable development.
Finally, a whole range of measures from the package announced today aims to accelerate the ecological transition of the economy and further support soft mobility, energy efficiency and responsible consumption. The measures will more specifically encourage sustainable energy renovation of housing, the transition to soft and sustainable mobility and investment in renewable energies.
Thus, financial aid for the sanitation of the various construction elements of the thermal envelope of the "prime house" building will be increased by 50%. Financial aid will also be increased by 25% for the promotion of heating systems based on renewable energies (Masutt-Ersatzprogramm) and the programmes of energy suppliers in favour of energy efficiency will be reinforced.
In order to promote soft mobility, the purchase premiums for bicycles and quadricycles, motorcycles and electric mopeds will be increased by 100% for all purchases from 11 May until the end of the 1st quarter of 2021 (capped at €600 and €1,000 respectively). The purchase premiums for electric cars and vans will be increased by 60% from €5,000 to €8,000 for the same period.
The increase in the various premiums and subsidies will apply temporarily until 31 March 2021, in particular with a view to stimulating demand in the short term and thus benefiting the sectors concerned (installers, garages, shops, etc.) from the economic recovery.
In addition, a programme to subsidise private electric charging stations, complementary to the Chargy network and geared towards users wishing to charge their vehicle at home, is being developed.
Finally, aid for photovoltaic installations above 30 kW will now be accessible to all interested parties.