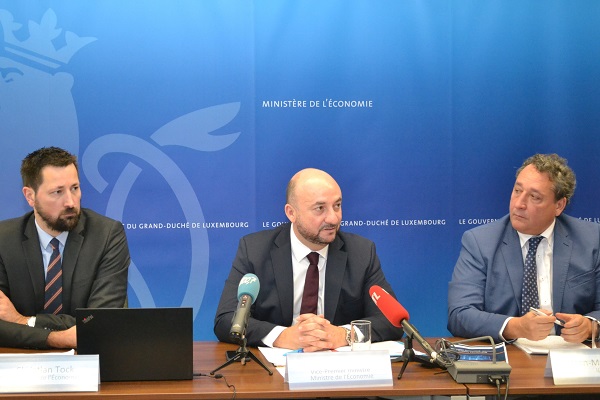 L-R: Christian Tock, Ministry of the Economy; Etienne Schneider, Deputy Prime Minister, Minister of the Economy; Jean-Marie Reiff, ILNAS; Credit: MECO
Luxembourg's Ministry of the Economy recently presented the "Circularity Database Initiative" aimed at supporting companies in their transition to a circular economy.
At a press conference, Deputy Prime Minister and Minister of the Economy, Étienne Schneider, presented this EU-wide pioneering initiative aimed at defining an audited standard for the efficient reuse of manufactured products at the end of their life cycle. Launched by the Ministry of the Economy, the pilot project is part of efforts to support companies in their transition to a circular economy.
The initiative is intended to eventually lead to an industry standard and audited framework for circular data on products throughout the whole value chain. The method for defining and exchanging such a circular data set for each product will ensure that the confidentiality of these commercially sensitive data is respected without constituting a prohibitive administrative burden for companies. The initiative aims to reduce current costs and maintain the value of products, components and materials. At present, such a standardised tool does not yet exist.
During the presentation of the project, Étienne Schneider said: "Our initiative aims to deploy the huge potential of the circular economy by filling the gaps in relevant data, including on the composition of the products. The project is part of the Rifkin post-process and data-driven innovation strategy to support the emergence of a sustainable and trusted economy".
To date, 50 companies from twelve different European countries have joined the Circularity Dataset Initiative. These include international industry leaders like IKEA, SaintGobain, Tarkett and ArcelorMittal, as well as national companies like Astron Buildings (based in Diekirch).
Growing interest in the initiative has convinced the Ministry of the Economy to bring the project to the next level in 2019 and to define the dataset, the underlying process and the auditing scheme in a co-creation process. After a series of webinars, a meeting on 9 December 2019 will bring together all the actors of the initiative in person in order to finalise the theoretical proof of concepts, developed for two product categories from the areas of construction materials and fast moving consumer goods. Inspired by Material Safety Data Sheets (MSDS), the dataset will take the form of a Product Circularity Data Sheet (PCDS), which regroups all relevant circular information in controlled and auditable statements and thus helps the consumer and manufacturer to make educated choices, increase the value of the product and enabling future uses in a circular economy. Future progress of the initiative can be followed on the newly established website: www.circularitydataset.lu.
Preliminary results will be shared at the Clean Tech Forum Europe 2020, which will be held in Luxembourg City from 18-20 May 2020.