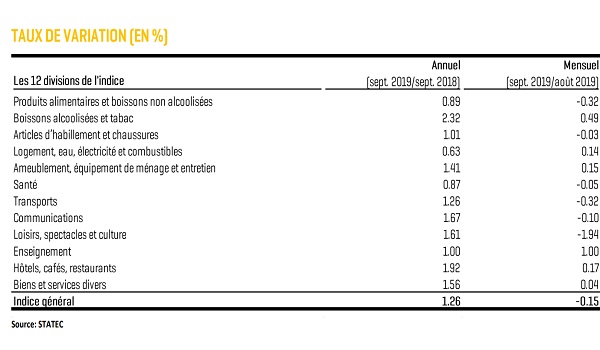 Credit: Statec
The annual rate of inflation in Luxembourg has dropped from 1.6% to 1.3% over the past month, according to Statec; the monthly rate fell by 0.2%.
In September 2019, the national consumer price index, calculated by STATEC, decreased by 0.2% compared to the previous month. This drop was mainly due to a decrease in travel prices after the summer holidays; package holiday and aeroplane prices fell by 6.1% and 21.4% respectively compared to August 2019.
Following a decrease in August, fuel prices rose again by 0.7% last month. This increase is attributed mainly to rising heating oil prices (up 2.1%). At the pump, motorists had to spend 1.3% less for one litre of petrol, whereas diesel prices climbed 1.9% compared to the previous month.
In food aisles, the price of fish and seafood fell by 1.3% and that of fresh vegetables dropped 5.6%. On the other hand, fresh fruit and alcoholic beverage prices rose by 1.6% and 0.9% respectively. Overall, food prices last month dropped by 0.5% compared to August but were 0.8% higher than in September 2018.
Vehicle and furniture prices similarly rose by 0.3% and 0.6% respectively, as did the price of non-compulsory education courses (up 1.0%).
In sum, the annual rate of inflation fell from 1.6% to 1.3% over one month. In addition, the overall index for the month of September 2019, expressed in base 100 in 2015, amounted to 105.9 points.