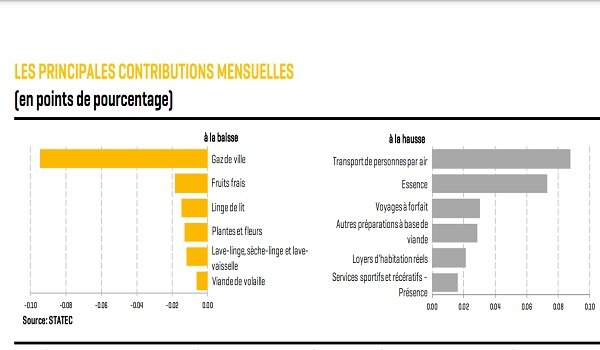 Credit: Statec
The annual rate of inflation in Luxembourg has dropped from 2.2% back down to 2.1% over the past month.
In April 2019, the national consumer price index, calculated by STATEC, rose by 0.18% compared to the previous month. This increase was mainly due to higher prices for airline tickets and package holidays following the Easter school holidays. For their part, petroleum products, were down 0.3% from March 2019.
Following increases in February and March, prices for petroleum products fell in April 2019. All petroleum products decreased by 0.35% compared to the previous month. This decrease was mainly due to the 6.4% decrease in fuel. At the pump, motorists had to pay 6.4% more for a liter of petrol, while the price of a liter of diesel fell by 0.3% compared to March. Compared to April of the previous year, the prices of black gold derivatives in the basket of the index exceeded 5.5%.
In addition, prices excluding petroleum products rose by 0.17%. Food prices increased by 0.3% over one month, with the largest increases compared to March being the price of seafood (+1.8%) and meat (+1.2%). On the other hand, fruit prices were down 2.0% from the previous month. In annual comparison, food prices were 1.5% higher than the previous year.
The overall index for the month of April, expressed in base 100 in 2015, amounted to 105.33 points. The semi-annual average of the index linked to the 1.1.1948 base rose from 864.71 to 865.60 points.