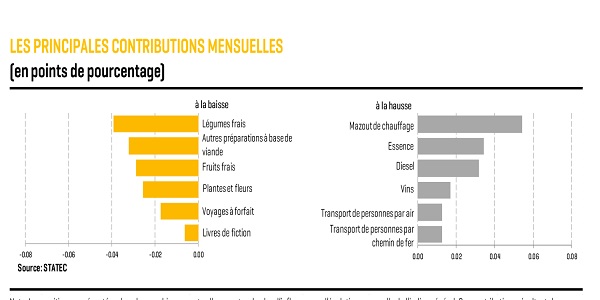 Credit: Statec
The annual rate of inflation in Luxembourg has increased from 2.1% to 2.2% over the past month.
In March 2019, the national consumer price index, calculated by STATEC, rose by 0.16% compared to the previous month. This increase was mainly due to an increase in petroleum products, which rose 2.4% compared to February 2019. Prices excluding petroleum products recorded a modest increase of 0.05%
Last month saw petroleum product prices rise for the second consecutive month. The price of diesel rose by 2.3% and that of petrol by 3.1% from February to March 2019.
In addition, the prices of other goods and services rose by 0.05% in one month. Food prices decreased by 0.7%, whilst air transport prices (carrying people) increased by 7.1% and rail transport prices (also carrying people) rose by 5.2% in March 2019.
The overall index for the month of March, expressed in base 100 in 2015, amounted to 105.14 points. The semi-annual average of the index linked to the 1.1.1948 base rose from 863.94 to 864.71 points.