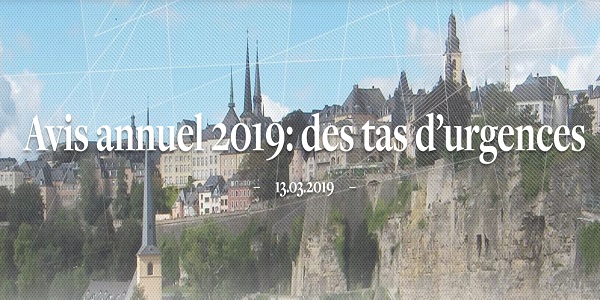 Credit: Fondation IDEA
Employment in Luxembourg is expected to increase by 3.4%, bringing unemployment down by 7%, according to the Fondation IDEA a.s.b.l.
In its paper "Des tas d'urgences", Idea has revealed some of the economic challenges facing Luxembourg and beyond. Specifically regarding the Grand Duchy, the paper reviewed economic performance and the challenges that trade expansion, Brexit and international trends in business taxation represent for its expansion.
In 2019, the growth of the Luxembourg economy should reach 3%, driven exclusively by domestic demand. According to the paper, employment is also expected to increase by 3.4% whilst the number of unemployed should fall by 7%. More and more companies should therefore face difficulties in finding the right workforce for their needs, especially if the rise in parental leave continues to drive down the employment rate.

Moreover, the economic consensus of IDEA, by aggregating the opinion of about fifty personalities of Luxembourg, aims to show the main sources of evolution of the economy, the possible contours of the next crisis, the privileged macroeconomic scenario in Luxembourg for the years 2019 and following, the politico-economic challenges and the responses that the new Luxembourg coalition government could make.
In this relatively favorable economic situation despite some warning signs, interviewees answered questions about the challenges for the Luxembourg economy and the possible responses that the new government could make. Regarding housing, which often appears as the main problem facing Luxembourg, the respondents considered that the most effective measure to improve access would be to facilitate the densification of buildings.
On the other hand, a significant increase in inheritance taxes appeared to be the least effective. In addition, 69% of respondents would invest a budget of €65 million, equal to the cost of free transport, in transport infrastructure (more than in social housing, free transport or redistribution). Moreover, respondents considered it particularly necessary for the Luxembourg economy to reform pensions, a measure absent from the government programme, but not to reduce working time.