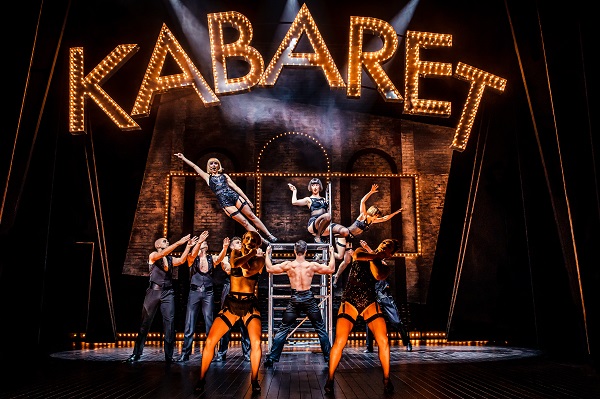 Cabaret; Credit: TheOtherRichard
Chronicle.lu got the opportunity to see one of the 13 performances of "Cabaret" being put on over the festive season at the Grand Theatre in Luxembourg-Limpertsberg.
In English with a smattering of French and German too, with French and German sub-titles, this popular stage production is set in Berlin in the early to mid 1930s. The main setting is a nighclub, the Kit Kat Club, where decadance and debauchery prevail. The main storyline, and there are various sub-plots too, concerns the arrival of Cliff Bradshaw (Charles Hagerty), an American language teacher, who meets Sally Bowles (Kara Lily Hayworth), an English "exotic dancer" who is hooked into the life of the club.
Cliff meets Ernst Ludwig (Nick Tizzard) at the railway station and suggests he stay at the boarding house run by Frauline Kost (Basienka Blake) who in turn is befriended by Herr Schultz (James Paterson), a Jewish grocer.
But all this is held together by the MC (John Partridge) who provides a running commentary throughout and also leads the more raunchy numbers - not unlike Dr. Frank-N-Furter in the Rocky Horror Picture Show. While some of the scenes, particluarly in the first act, may first appear to be a bit over the top, when taken altogether, the interpretation while intense does portray the level to which the club is removed from the "real world".
Act 2 starts to reveal the true nature of some of the characters, particularly Ernst Ludwig, who openly smuggles items from Paris to Berlin in his briefcase with regular trips by train. When Cliff is really stuck for cash, Ernst persuades him to do a trip for him, for which he is paid handsomely. While Sally is delighted with the "easy money", Cliff becomes very concerned when Ernst's political beliefs show themselves, and he starts to think about leaving Berlin and returning to America.
Kander and Ebb's landmark musical "Cabaret" is based on the play by John Van Druten and stories by Christopher Isherwood. It contains many iconic songs, including Money Makes The World Go Round, Two Ladies, Maybe This Time and Cabaret. The set and lighting are superb, with characters making the most of the shadows, and the scene changes are seamless and very quick indeed.
Cabaret is presented by Ben Kenwright, on 23, 26, 27, 29 and 30 December at 20:00, on 28 December at 15:00 and 20:00 and on 31 December 2019 at 19:00, as well as on 2, 3 and 5 January at 20:00 and on 4 January 2020 at 15:00 and 20:00.
For tickets (€25/€40/€65), see http://www.theatres.lu/SAISON+2019_2020/Op%C3%A9ra/_4+CABARET-p-20004022.html