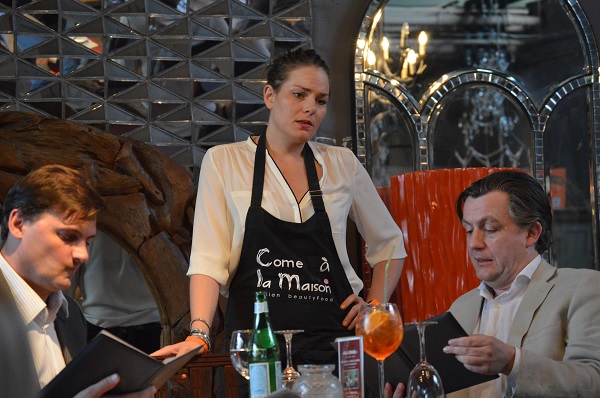 For an evening celebrating the off-the-cuff style of improvised theatre, there could have been no better setting than the eclectic backdrop of restaurant-cum-furniture shop Come à la Maison on Route d'Esch; ornate mirrors, silver bulls' heads and chilli peppers dangling from the walls reminded the densely-packed room to expect the unexpected. The furniture, and therefore the set, was all available to buy, allowing the actors to pick objects off the nearby tables as they plucked their next lines from thin air.
The inspiration for 'Lunch On the Go', devised and performed by international improvisers and award-winning actors Timothy Lone and Alan Cox was both conceptually and scenically a simple one: two men, a lunch, and a little help from the audience. However, the scene that subsequently unfolded became much more.
The sketch, set in fictional café 'Chez Pierre', involved a lunch meeting between two friends, whose conversation wavers between the banal and the personal, inciting both humour and heartache. The simplistic setting and the very real food consumed by the actors onstage, as well as the spontaneous use of a waitress from Come à la Maison to deliver the ordered dishes, gave the scene a very genuine quality. There was something therefore very natural and frank about the juxtaposition of Cox's offhand reference, over casual ciabatta, to the traumatic chemotherapy process underwent by the wife of Lone's character.
"It's an intimate setting, the closer you get in the better," beckoned an usher upon arrival, followed by a request made by Lone at the beginning of the scene for suggestions from the audience of "things people don't like to talk about." The consequent close-knit environment became an important feature in forcing the audience to confront the stark subject matters up for discussion. The blending of actor and audience, from the latter's input in the scene as well as the close physical proximity of the two, meant that there was no escape for on-lookers when controversial topics such as racism, sexuality and politics arose.
The actors then cleverly used their characters as outlets for incendiary remarks denoting commonly-expressed biases, subtly inviting spectators to reflect on their own vision of the world. This last feat was testament to the performers' extensive experience in the acting industry. Timothy Lone is Founder and Producing Director at Actors Repertory Theatre Luxembourg, which produces multiple professional theatrical pieces annually. Alan Cox has enjoyed success on both the stage and the silver screen, performing alongside Laurence Olivier and Sir Ian McKellen in theatrical productions as well as appearing in highly-rated television series such as 'John Adams' and 'The Good Wife'.
'Lunch on the Go' was overall a very enjoyable occasion, and evidence for how the development of Luxembourg's improvisation scene could offer its audiences plenty of food for thought.
Photos By Sarah Graham
Top - L-R: Timothy Lone; Employee at host venue Come à la Maison; Alan Cox
Middle: L-R Timothy Lone; Alan Cox
Bottom: Alan Cox