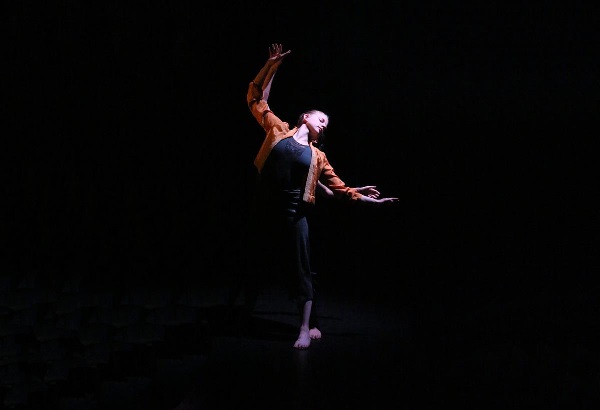 Credit: Bohumil Kostohryz
The Luxembourg Centre for choreographic creation TROIS C-L has announced details of its new internship programme for the months of May to July 2019.
From next month until early-summer, TROIS C-L will be offering a programme packed with courses and dance classes to help amateur dancers discover, have fun and improve their skills. These are:
- "Contemporary Dance for Adults" discovery course, led by Aifric Ní Chaoimh from 4 May to 6 July 2019. Distributed in ten sessions from May to July, this contemporary dance workshop for adults aims to help participants sharpen their body awareness and reveal their creativity, through learning various movements and rhythmic challenges. Aifric Ní Chaoimh uses a vocabulary specific to contemporary dance including, for example, Cunningham and Release techniques, floor work and improvisation. The objective is to become familiar with a wide range of emblematic techniques of contemporary dance and to take pleasure in practising it. The workshops are open to all levels (from 18 years old) and will take place from 10:30 - 12:00 on Saturdays. Trial classes cost €20 - €25, a set of five classes costs €75 - €100 and the whole course (ten classes) costs €150 - €200.
- Contemporary Flamenco Dance workshops, led by flamenco artist Leonor Leal on 18 May 2019. This one-day workshop invites participants to exploit the aesthetic and musical richness of flamenco. Individual expression, emotions and creativity are at the heart of this course, addressed to an intermediate audience (aged 16 and over). The class includes a warm-up, choreographic sequences and improvisation, based on materials announced in advance. This course is the fruit of a very young collaboration between TROIS C-L and the FlamencoFestival Esch, organised by Círculo Cultural Español Antonio Machado and the Kulturfabrik cultural centre. The workshop will run from 11:00 - 13:00 and from 14:00 - 16:00. The two parts cost €45 - €50.
- Contemporary Dance for Children course, led by dancer, choreographer and instrutor Jennifer Gohier from 27 May to 1 June 2019. Directed towards young children, this Easter workshop serves as an introduction to contemporary dance. It is an extension of the show SaC à DoS, choreographed and performed by Jennifer Gohier and Grégory Beaumont, who have travelled across Luxembourg and the world since the first performance in 2017. This training course takes place on six daily morning sessions, with a public performance at the end. In addition to introducing children to contemporary dance, Jennifer Gohier will share her experiences of traditional dances (Ethiopian, Indian, Laotian, Balinese and South American). A creative workshop will be an integral part of this course, to nurture the creativity of the young participants. All levels are welcome (children aged 6 to 10). The course will run from 10:00 - 12:00 daily. A trial class (first day only) is available for the price of €20. The full course (six classes) costs €90.
- Contemporary Dance course, led by Julie Barthélémy from 15 to 16 June 2019. This weekend course combines technical and choreographic workshops. Guided by Julie Barthélémy's experience as a dancer in company and her interest in pedagogy and body reading, she will present various techniques. The sessions will also include some partnering exercises. In a second step, the participants will be invited to explore the qualities of movement, the state of interpreting, musicality and the spontaneous composition in a section dedicated to choreography. This course is suitable for medium to advanced participants (aged 15 and over) and will run from 14:00 - 18:00 on both days. A trial class (first day only) is available for the price of €45 - €50. The full course (two classes) costs €90 - €100.
The lower prices are applicable to professional artists, jobseekers and students upon presentation of proof.
For more information, email: stages@danse.lu, tel.; 404-569 or visit https://www.danse.lu/.