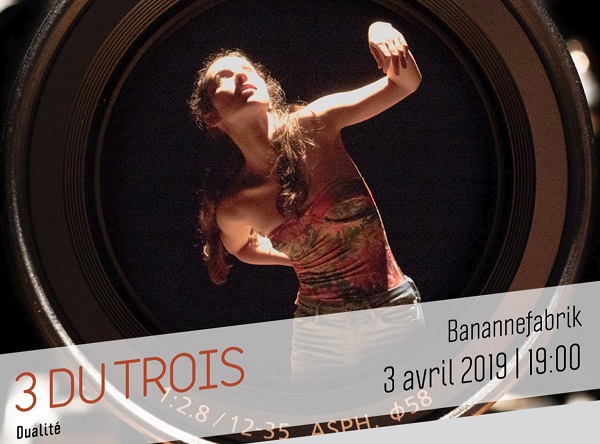 Credit: © Pedro Barbosa
On 3 April 2019, Banannefabrik will host the latest TROIS C-L programme, "Dualité", starting at 19:00.
This springtime edition from TROIS C-L will open with a live video performance of "Driven", the 2018 dance creation of Luxembourg choreographer Jean-Guillaume Weis.
Next on the agenda will be a performance of "Un 2" by Belgian duo Youri de Gussem and Julie Querre. These resident dancers' creation portrays relationships and emotions, from love to friendship.
Luxembourg dancers Catarina Barbosa and Baptiste Hilbert (from AWA As We Are) will then present their creation "24FPS", which mixes aesthetic with dramatic art. The performance will combine dance and video in order to offer a new way of experiencing the double narrative of the stage and the screen.
The programme will also feature an array of visual arts, from Sabine Molenaar's (Netherlands) "Kali" - a video dance creation mixing light and shadow - to the esoteric vision of Australian photographer Jeff Busby's exhibition.
For more information, visit www.danse.lu, email: danse@danse.lu or tel.: +352 40 45 69.