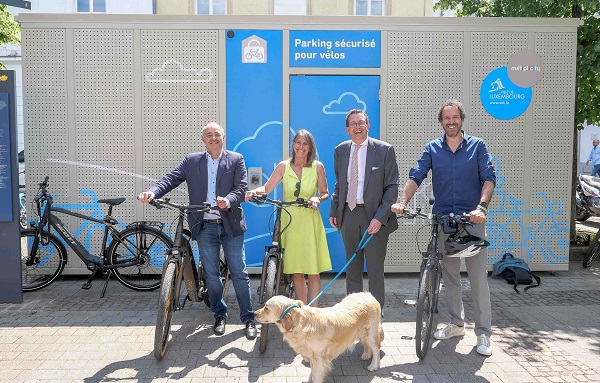 Credit: VdL
On Friday 9 June 2023, the Luxembourg City College of Mayors and Aldermen officially put into service two bicycle cages intended for the collective and secure parking of bicycles in Place du Théâtre in Luxembourg-ville and in the parking lot of the Hall Victor Hugo, in Limpertsberg.
The City of Luxembourg financed these newly set up cages which can accommodate sixteen bicycles each. They are integrated into the mBox network, the solution implemented at national level for the secure parking of bicycles. All mKaart holders with an mBox subscription - available for free online - can now access this new equipment.
Thanks to the installation of bicycle cages at strategic locations in the city centre and on the outskirts, an approach in line with its soft mobility policy, the City of Luxembourg wishes to simplify the lives of users, create more measures incentives for the use of bicycles for daily travel and meet growing demand for secure cycle parking in urban areas:
• In Place du Théâtre, the device now allows cyclists in Luxembourg-ville to safely park their bikes in the vicinity of city centre amenities;
• The Hall Victor Hugo site is located in the centre of the Limpertsberg district, close to the car-free living site and near educational, commercial and administrative establishments, many of which do not have a solution for the secure parking of bicycles.
In addition, a third bicycle cage will be put into service by the end of June 2023 in the Bonnevoie district. A secure bicycle shelter will be installed on the island of greenery located to the right of rue de Hesperange and the rue du Dernier Sol. Due to its location in a neighbourhood where the majority of homes do not have a bicycle room, and thanks to its proximity to the tram line, the equipment is expected to serve a large number of potential users.
This is a pilot project which could be extended according to needs and requests to other districts and strategic locations in urban areas in Luxembourg City.
While many railway stations already have M-Boxes, secured boxes for bicycle storage, this project is meant to make bicycles more easily accessible within the urban spaces themselves.