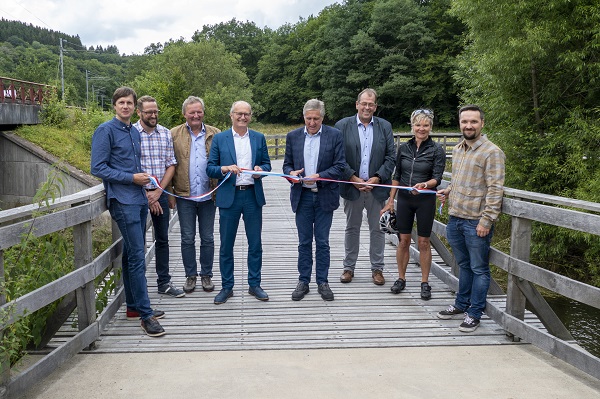 L-R: Gilles Dostert, Mobility Ministry; Yves Kaiser, Kiischpelt Mayor; Fränk Arndt, Wiltz Mayor; Claude Turmes, Energy Minister; François Bausch, Mobility Minister; Jean-Paul Mathay, Goesdorf Mayor; Martine Hansen, MP; Jeff Biever, Mobility Ministry; Credit: Municipality of Wiltz
Luxembourg's Deputy Prime Minister and Minister of Mobility and Public Works, François Bausch, and the Minister for Energy, Claude Turmes, inaugurated the PC20 cycle path connecting the localities of Wiltz and Kautenbach in Northern Luxembourg.
This section is part of the development project of the PC20 between Merkholtz railway station (municipality of Kiischpelt) and Wiltz and is one of the last missing links in the cycle path between Bastogne (Belgium) and Kautenbach.
The new section is 4.9 km long. The route was developed through the former state quarry at Merkholtz and over existing forest roads which have been turned into a concrete cycle path. The existing path to the "Tutschemillen" mill has been redeveloped over a length of 1.5 km. At this time, the degraded bridge passing through Wiltz was rehabilitated. As part of the construction of the PC20, the PN14 level crossing at "Schlesserbierg" was also removed and replaced by an underground reinforced concrete passage.
Works started in March 2020 and ended in June 2021. Total costs amount to €1,308,650.