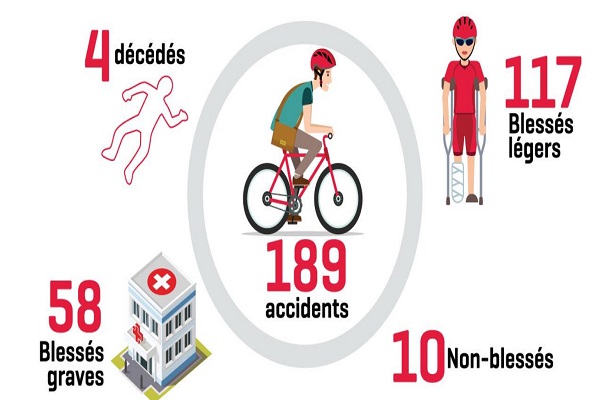 Credit: Statec
From 2016 to 2018, Luxembourg's roads claimed the lives of four cyclists and seriously injured a further 58, according to a report by Statec.
Luxembourg's statistical agency has reported that a total of 189 cyclists were involved in road accidents over the past three years, of which one third was seriously injured or killed. More specifically, four cyclists lost their lives on the road, 58 were seriously injured, 117 were slightly injured and ten survived the accident without injury between 2016 and 2018.
Of the 179 cyclists injured on the roads during this period, 84% were men (159) and the average age was 43 years old. Indeed, the most affected age group was 35- to 54-year-olds (representing 44% of victims). Nevertheless, older people (over 65) were most vulnerable to serious injuries (19% of those suffering such injuries) and sixteen cyclists involved in road accidents were under 18 years old. 80% of victims were residents of the Grand Duchy.
During the week, most road accidents involving cyclists occurred during rush hour (from 06:00 to 09:00 and particularly between 16:00 and 19:00). At the weekend, most accidents resulting in injuries occurred in the morning and from mid-afternoon on.
The greatest number of victims were recorded in the cantons of Luxembourg-ville (25) and Esch-sur-Alzette (22), which represented 47% of the total number during this period.