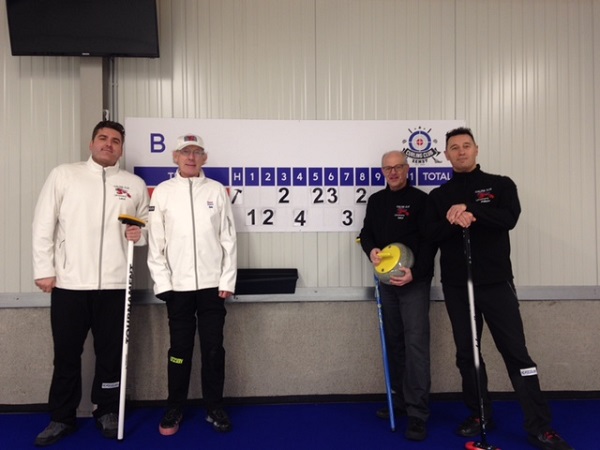 L-R: Lukas Jirousek; Dan Kelly; Volker Beba; Philippe Giltaire; Credit: Luxembourg Curling Union
Curling Club Luxembourg have retained their lead in the 2022/23 Belgian Curling League after five games (and as many victories).
On Saturday 12 November 2022, Curling Club Luxembourg, this time represented by skip Dan Kelly, Lukas Jirousek, Volker Beba and Philippe Giltaire, won their fourth and fifth game of the Belgian League B Division - with an option to access the A Division.
Having beaten the U18 team from Zemst (Belgium) 7-2 and the Blue Huskies (Belgian national women's team) 10-9, the Luxembourg club is still unbeaten this season.
After the forfeit of Founders from Ghent, Curling Club Luxembourg has two last games to play on Sunday 18 December 2022. Going up against the Dun Schrobkens from Tilburg (Netherlands) and the French team Viry-Châtillon, the Luxembourg curlers will try to retain one of the top two spots to be able to access the A Division in January 2023.