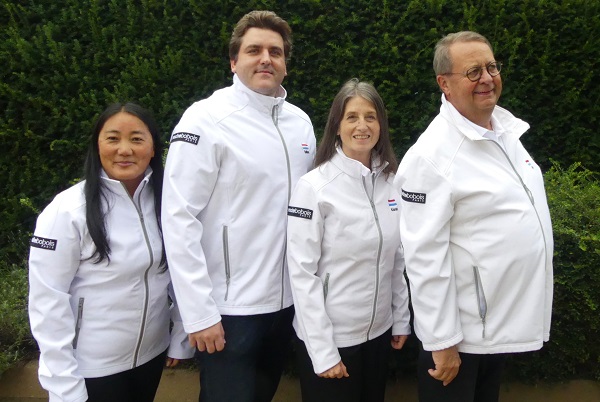 L-R: Maja Bjerg-Petersen; Lukas Jirousek; Karen Wauters; Alex Benoy; Credit: Luxembourg Curling Federation
The Luxembourg Curling Federation, together with its sponsors Rochebobois and Human Capital Focus, is sending a team of four to participate in this year's World Mixed Curling Championship, which will take place in Aberdeen, Scotland (UK) from 15 to 22 October 2022.
This is only the third time that Luxembourg is represented at the World Mixed Curling Championship. In previous editions, the team did not secure any wins.
For this edition, Team Luxembourg is composed of Maja Bjerg-Petersen (lead), Lukas Jirousek (second), Karen Wauters (third and vice-skip) and Alex Benoy (fourth and skip).
The aim is to come home with a first win against one of the non-favourite teams, such as Mexico or Austria, and to gain experience against World Championship favourites Slovakia, Hungary, Switzerland and Scotland.
Playing schedule
Luxembourg will first go up against Mexico (world ranking: 46th) on Saturday 15 October at 16:00.
Luxembourg will play two games on Sunday 16 October, first against Scotland (2nd) at 08:00 and then against Hungary (13th) at 16:00.
On Monday 17 October, Luxembourg will play against Slovakia (17th) at 16:00.
Team Luxembourg will then go up against England (23rd) on Tuesday 18 October at 20:00.
The following day, on Wednesday 19 October, Luxembourg will compete against Australia (26th) at 12:00.
Team Luxembourg will then play two games on Thursday 20 October, first against Switzerland (8th) at 12:00 and later against Austria (34th) at 20:00.
The quarter-finals are scheduled for Friday 21 October, followed by the semi-finals and final on Saturday 22 October 2022.