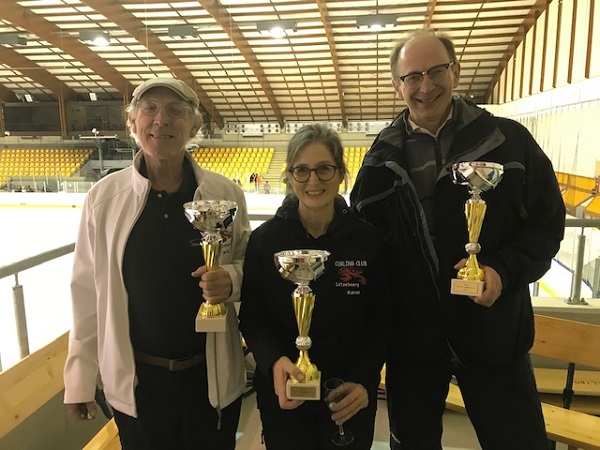 Winners of Luxembourg Curling Cup 2021/22; Credit: Curling Luxembourg
The finals of the 2021/22 Coupe de Luxembourg (Luxembourg curling cup) took place at the Kockelscheuer ice rink on Sunday.
Three teams participated in this year's finals: Team Benoy, composed of Alex Benoy, Philippe Giltaire and Mett Goerens; Team Schweitzer, composed of Claude Schweitzer, Barry Foulds and Volker Beba; Team Kelly: Dan Kelly, Karen Wauters and Jimmy Stryhn (newcomer).
The all-play-all games finished as follows: two victories for Team Schweitzer; one victory for Team Kelly; zero victories for Team Benoy.
The Gold Final that followed was a high-level game, during which the teams finished at 4-4 after six exciting ends.
A last stone draw (i.e. sending a stone as close as possible to the button) for two players per team had to decide the winner: Team Kelly won with two stones at less than 20cm.