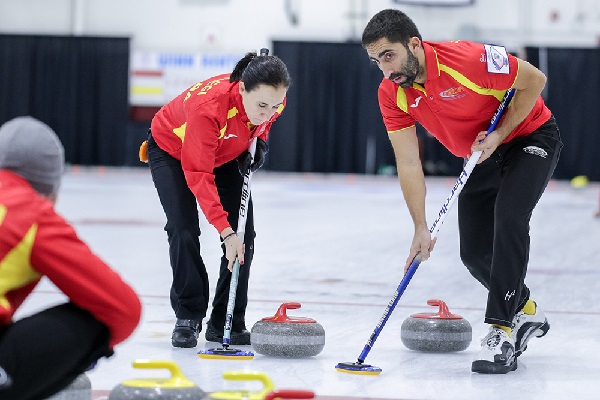 2018 silver medallists, Spain; Credit: © WCF / Jeffrey Au
Curling Luxembourg have confirmed their participation in the World Mixed Curling Championship 2019, taking place in Aberdeen, Scotland, from Saturday 12 October to Saturday 19 October.
The championship, now in its fifth year, will see Aberdeen play host to 40 international teams from different member associations, with Kosovo and Nigeria making their World Mixed debuts.
The competing member associations are split into the following five groups (Luxembourg is in Group D):

Group A: Belarus, Canada, Estonia, Germany, Hong Kong, Kosovo, Nigeria and Slovakia
Group B: Andorra, Croatia, Czech Republic, Denmark, Norway, New Zealand, Poland and Wales
Group C: Australia, Brazil, Spain, Hungary, Kazakhstan, Latvia, Sweden and United States
Group D: Ireland, Italy, Japan, Luxembourg, Scotland, Slovenia, Chinese Taipei and Turkey
Group E: Austria, Belgium, England, Finland, France, Korea, Russia and Switzerland
Defending champions, Canada, will begin their competition in Group A during the opening session against Germany.

The World Mixed Curling Championship is an open entry event for all World Curling Federation member nations. Each member association can enter one mixed team consisting of two female and two male athletes. No alternatives are used in mixed curling.

Round-robin play begins at 08:00 on Saturday 12 October and concludes at 20:00 on Saturday 19 October 2019 after 24 sessions. At the conclusion of the round robin, the top three teams in each group, along with the best fourth-place finisher, will progress to the play-off stage. The teams are then ranked from one to sixteen according to their final group placement and Draw Shot Challenge score.

The play-off stage begins with the first session of the last-16 round at 09:00 on Friday 18 October followed by the second last-16 round session at 13:00 that afternoon. The quarter-final stage takes place that evening at 19:00. Semi-final match-ups will take place on Saturday 19 October at 09:00, followed by the bronze and gold medal games at 15:00 that afternoon.