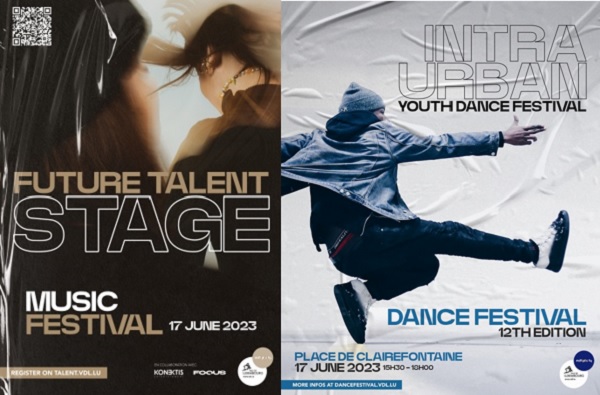 The City of Luxembourg has announced that the "Future Talent Stage" and "Intra Urban Youth Dance Festival" events will take place on Saturday 17 June 2023, with registrations now open (until 31 March).
The events will address artistic expression of young people and are being organised by the Youth and Social Intervention Service at the Place de Clairefontaine.
Intra Urban Youth Dance Festival (17 June 2023 @ 15:30 - 18:00)
Characterised by a non-competitive approach, this dance festival is a platform for amateur dance groups from the Greater Region and youth centres in Luxembourg who wish to present their urban dance choreographies (hip-hop, break-dance,... ) in the heart of the capital on an outdoor stage.
Groups interested in participating in the "Intra Urban Youth Dance Festival" can register online at https://dancefestival.vdl.lu.
Future Talent Internship (17 June 2023 @ 19:00 - 22:00)
This music festival, organised in collaboration with Konektis and Foqus, gives budding young artists the opportunity to perform solo or as a duo on stage in the presence of personalities from the field. The festival, which combines vocal performances and shows, is aimed at teenagers and young people between the ages of 15 and 25 from Luxembourg-city and the surrounding area who wish to promote their singing talents (urban music, hip-hop, pop, soul, etc.).
Those interested in participating in the "Future Talent Stage" can register online at https://talent.vdl.lu