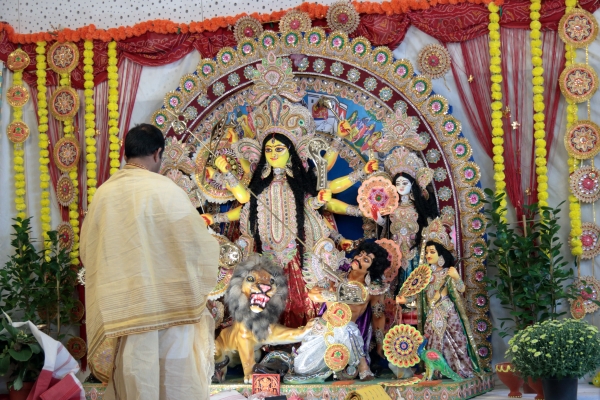 Credit: Kangkan Halder
LuxUtsav, a non-profit cultural organisation mainly composed of Bengali-speaking families in Luxembourg, is organising a four-day long celebration of the Hindu festival "Durga Puja" from Saturday 1 to Tuesday 4 October 2022 at Salle am Duerf at 3 Rue de Hesperange, L-5959 Itzig, Luxembourg.
Durga Puja is a major annual festival in eastern and northeastern states of India and in Bangladesh. The cultural organisation LuxUtsav, a collective effort from over 60 families, first organised Durga Puja in 2019. This year the celebrations are back in full swing, unlike the limited entry to the venue due to the health measures in place in 2020 and 2021.
Durga Puja is also inscribed on the UNESCO Representative List of the Intangible Cultural Heritage of Humanity, one of the fourteen Intangible Cultural Heritage elements from India.
Speaking to Chronicle.lu, Budhaditya Bhattacharyya, President of LuxUtsav and priest "purohit" said: "LuxUtsav is in its fourth year this year. This year, with COVID-19 restrictions gone, we invite people from all spheres of life and all faiths to participate in this four-day celebration of Indian culture and food. Please visit us at Salle Am Deurf, Itzig with your friends and families".
On all four days, prayers (also known as "Aarti" in Hindi and Bengali) will be offered to the deity, while cultural activities are planned intermittently throughout the day, including Indian and fusion dances, musical performances by Maddox Square Jam and solo artists, theatre performances, fashion shows and a series of events for children.
Food stalls will offer various Indian dishes, including sweets (chomchom, moongdaal halwa, rasmalai, etc.), savory preparations (dahi vada, pani phuchka, dahi papdi, pakodas, momos, jhalmuri, dhokla, etc.) and main dishes (biryani, chicken and paneer rolls, etc.)
Entry is free and people of all faith are welcome as the Durga Puja, in addition to being a Hindu festival, is also a cultural event and an opportunity to celebrate Indian regional cultural heritage and culinary delicacies.
Detailed information on the event programme is available online via: https://luxutsav.lu/.