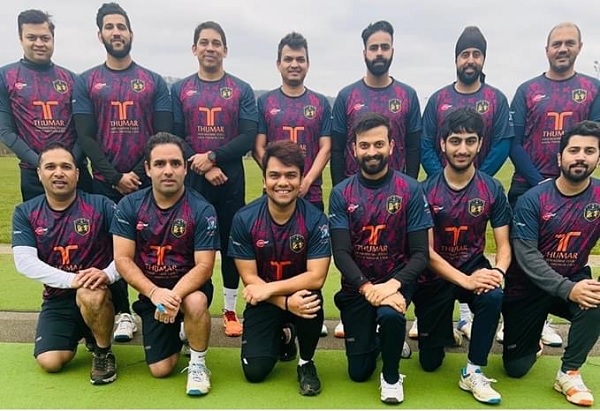 Star CC team travelling to Malaga; Credit: Star CC
Star Cricket Club is representing Luxembourg at the third European Cricket League being played at the Cartama Oval in Malaga, Spain; they enter the tournament on Monday 13 March 2023.
Star CC have announced their squad for the tournament: Adyvth Manepalli, Ahsan Aftab, Ansh Trivedi, Harpal Singh Virdee, Jadin Madan (VC), Manikandan Balu, Mayank Nagayach, Pranjul Shah, Rahul Shah, Roshan Vishwanath, Rutvij Thumar, Sambhav Puri, Shiv Karan Singh Gill (C) and Vijay Kumar Desai.
The 2023 tournament is a T10 cricket competition organised by the European Cricket Network, meaning that each side bowls for 10 overs and bats for 10 overs. Each group plays in a round-robin format followed by eliminators to determine the group winner.
The tournament is taking place between 27 February and 24 March, with Finals Week starting on 20 March. The 30-team format from the previous edition remains in place, with 30 "National Champions" taking part in six groups across six weeks, with the winners of the groups joining 2022 winners Pak I Care Badalona (Spain) in the Finals Week to determine the overall winner. Two other finalists are also already known: Hornchurch CC (England) and Farmers (Jersey) who won Groups A and B respectively.
Star CC is drawn in Group E alongside Roma CC (Italy), Badalona Shaheen (Spain), United CC Bucharest (Romania) and Zagreb Sokol (Croatia).
Speaking to Chronicle.lu about their hopes and expectations for this tournament, Club Chairman Rutvij Thumar and Star CC Captain Shiv Karan Singh Gill said: "As a club we always want to achieve sporting success and winning the Luxembourg cup tournaments twice in a row and representing Luxembourg at the biggest European club competition is something we are really proud of. While we are proud of this achievement, we are equally proud of how the club as a whole has progressed recently, especially with women and juniors."
They added: "We are going there with a mindset of winning the League and to showcase our talent at the highest level."