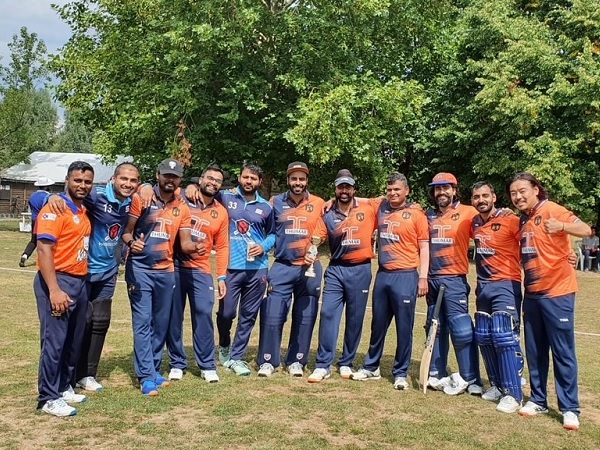 The victorious IAL team after winning the 2022 Lagaan Cup; Credit: IAL
On the occasion of India's Independence Day which falls on 15 August, which is a public holiday in Luxembourg as it is the Feast of the Assumption, a Catholic holiday, the Indian community in the Grand Duchy traditionally gets together for a community event in Walferdange.
At the home of the Optimists Cricket Club (next door to the Walferdange rugby club's pitch), the Indian Association Luxembourg (IAL) traditionally plays a game against the Optimists Cricket Club (OCC) at the Pierre Werner Cricket ground.
Following the solemn flag-raising ceremony, the 2022 edition of the annual 11-a-side match got underway.
Winning the toss, the captain of OCC, Vikram Vijh chose to bat first in the 20 overs game. The toss was followed by the Indian and Luxembourgish national anthem.
OCC got off to a good start with their batters scoring briskly. Half-way through their innings, they had managed to score 74 for the loss of just one wicket. The run flow continued and OCC managed to add another 93 in the remaining 10 overs. OCC posted an above-par score of 167/6 with good contribution from Anoop (47 runs), Shoaib (31), Ankit (27) and Vikram (23). Vijay and Akash were the pick of the IAL bowlers.
In response, the IAL did not get off to a great start as they lost wickets at regular intervals. However, that did not stop them from scoring quickly and managed to get to 79 runs for the loss of 3 wickets at the 10-overs mark. The run flow then continued at an even better pace and the IAL managed to reach their target of 168 in 17.4 overs with a major contribution from Harpal (55 not-out from just 35 balls) and Vijay (45 from 38 balls). For OCC, Rakshit was the leading bowler.
The captain of the IAL team, Jatin Madan received the trophy (Lagaan Cup 2022) from the senior umpire Richard Eames.
Those attending, both players and spectators, enjoyed a traditional curry and cold drinks from the bar.